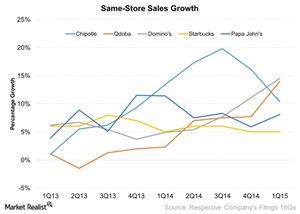 Will Chipotle's Story Have a Silver Lining in 2015?
By Adam Jones

May. 26 2015, Updated 7:06 p.m. ET
Chipotle's story
What happens to Chipotle Mexican Grill (CMG) over the next few quarters will have meaningful implications for Chipotle's stock price. If Chipotle expects continued weakness in traffic growth through the end of 2015, investors will start questioning the company's long-term growth rate or prospects. This will happen even if comparable traffic growth becomes easier from the third quarter of 2015.
This will certainly raise a lot more questions if Chipotle's peers such as Qdoba and the US economy continue to do well. Currently, Chipotle has more than 1,800 units, and Qdoba has about a third of that. When Qdoba increases its locations, it may lead to a more competitive environment for Chipotle in the long run.
Article continues below advertisement
Competitive environment
You might argue that the increasing competitive environment in the US market (XLY) will impact Chipotle's prospects. In the above chart, you can see that Chipotle's same-store sales have dropped to 10.4%. Chipotle's most prominent peer, Qdoba, under the umbrella of Jack in the Box (JACK), has grown same-store sales since 2Q13, reaching a high of 14% in the first quarter of 2015.
Strengthening Qdoba comp sales show the potential competition Chipotle may face from Qdoba's similar menu and product, although it serves a different target market. XLY holds 1% of CMG.
Papa John's (PZZA) and Domino's Pizza (DPZ) saw an increase in same-store sales of 14.1% and 8.1%, respectively. These are long-term issues, which we'll cover later in this series. First, let's look at Chipotle's same-store sales growth trend over the past several quarters.
A silver lining for long-term growth prospects
Chipotle has a management that has stuck to the company's food culture, sometimes with the high cost of losing. For example, Chipotle felt the impact of its recent decision to stop using its pork supplier since it didn't meet Chipotle's standards.
Chipotle has a menu that's already successful with Millennials. Even giants like McDonald's are still trying to attract this younger generation. Chipotle also has a business model that can be scaled to other concepts. These will increase the price of Chipotle shares.
Chipotle has room to grow more units. It also has two new concepts that are currently in the test phase. We'll take a look at these in the next part of this series.