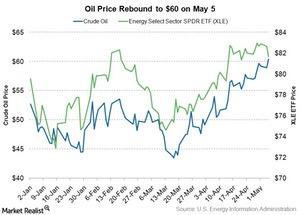 Crude Oil Crosses $60 Mark on May 5, USO Rises 2.37%
By Surbhi Jain

Updated
WTI light sweet crude oil closes at $60.40 per barrel
The United States Oil ETF (USO), which invests in spot West Texas Intermediate (WTI) light, sweet crude oil, gained 2.37% as the price per barrel closed at $60.40 on May 5. This is the first time this year crude oil has crossed the $60-per-barrel mark.
The price of crude oil has been rising recently on anticipated supply constraints. A sharp decline in drilling activity over the past few months has raised concerns over a supply glut, as demand would increase with improving global fundamentals. Europe is already showing signs of recovery. Anticipated stronger demand with shrinking supply is leading oil prices to rally for now.
Article continues below advertisement
Rising oil price benefits drilling companies
Oil and gas drilling companies such as Diamond Offshore Drilling (DO), Transocean (RIG), and Ensco (ESV) stand to gain with a rise in crude oil prices. This means ore revenue to these companies. DO, RIG, and ESV were up 4.50%, 3.10%, and 2.65%, respectively, at the close of trading on May 5. These companies have lost about 5.77%, gained 3.55%, and declined 8.15%, respectively, so far this year on the oil price decline during the first quarter. However, the Energy Select Sector SPDR ETF (XLE), which tracks the energy sector, has gained 3.13% so far this year and closed 1.23% down on May 5.
Libya and Saudi Arabia are behind the oil price rally
The oil price rally on May 5 was instigated by speculations surrounding the situation in Libya. Protestors there blocked a key oil port, which blocked around 100,000 barrels of crude oil production per day. Growth in oil production in the Libyan region has been a key factor in driving down oil prices in the second half of 2014.
There was also news of Saudi Arabia raising its oil prices for the American and European regions.
The US stock market, as gauged by the benchmark tracking SPDR S&P 500 ETF (SPY), was down 1.15% on Tuesday for yet another reason. We'll look at that in the next part of this series.