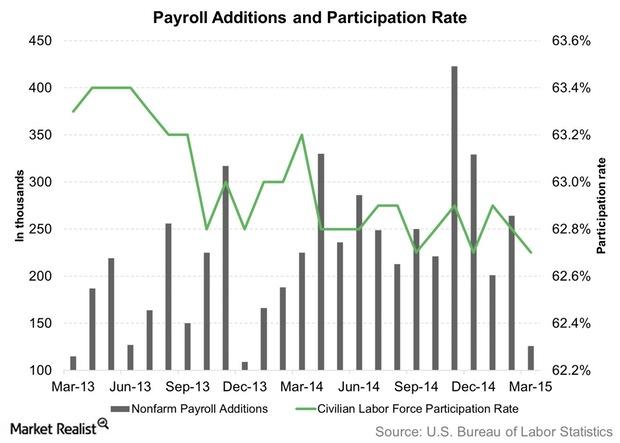 The US Labor Market: No Longer the Poster Child?
Not as stellar anymore
The US labor market has been the poster child of economic indicators for monetary policymakers. The FOMC (Federal Open Market Committee) was gung-ho about the labor market, saying only a few nooks and crannies remained in an otherwise stellar market. This was the case until the FOMC's March report came out.
The report showed that non-farm payroll additions slowed to a seasonally adjusted 126,000 jobs in March, the lowest since December 2013. Professional and business services, healthcare, and retail trade added jobs in March. But mining cut jobs by 11,000. A survey of households showed that the unemployment rate was 5.5% in March, unchanged from a month ago.
Article continues below advertisement
After the FOMC's April report, equities rose. The SPDR S&P 500 ETF (SPY) was up 0.7% on April 6, the first day markets reacted to the April 3 report. Utilities stocks, which have been among the biggest beneficiaries of an easy monetary policy, also rose. They pushed the Utilities Select Sector SPDR ETF (XLU) up 1.4% on April 6. XLU's top three holdings are Duke Energy Corporation (DUK), NextEra Energy (NEE), and Dominion Resources (D). They form nearly a quarter of the ETF's portfolio. Stocks for DUK, NEE, and D rose 1.7%, 0.8%, and 1.6%, respectively, on April 6.
Are we jumping to conclusions?
It's never a good idea to paint an entire picture, good or bad, on the basis of a single data point. But the FOMC's April report did shake up rate hike expectations.
The FOMC stated in March that "underutilization of labor resources continues to diminish." Now it's saying that this "underutilization of labor resources was little changed." Labor market slack, as represented by the labor force participation rate, continues to remain weak.
We're a week away from the release of the non-farm payrolls report for April. It's going to show whether March's numbers were just a blip or whether the US labor market is actually weakening. Watch out for the report. It will impact your investments.
We've look extensively at US economic indicators in light of the latest monetary policy statement issued by the FOMC. Let's conclude this series by looking at what may lie ahead for the elusive rate hike.