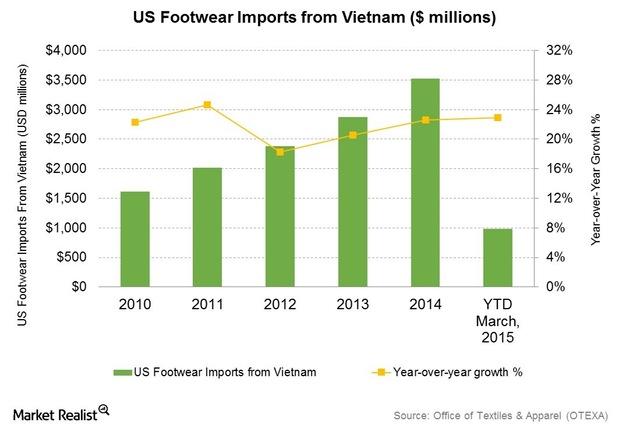 Trans-Pacific Partnership: How It Affects Footwear Firms
By Phalguni Soni

Oct. 18 2015, Updated 12:51 p.m. ET
Vietnam is growing footwear exports to the US
As mentioned in the last part of this series, the inclusion of Vietnam in the TPP (Trans-Pacific Partnership) is particularly important for firms in the footwear industry. Vietnam accounted for 13.9% of all footwear imports to the US in 2014. It's the second largest footwear exporter to the US after China. Footwear exports from Vietnam to the US increased from 7.6% of the total in 2009 to 13.9% in 2014.
Article continues below advertisement
Manufacturing impact
Nike (NKE) is the world's number one athletic footwear brand. It clocked $16.2 billion in global footwear sales. Nike's footwear is manufactured abroad. This includes factories located in Vietnam and Malaysia—members of the TPP. It's important to note that ~68% of Nike's footwear is manufactured in these countries. Nike has 67 factories in Vietnam, including 26 footwear factories.
Other companies in footwear and sportswear include Skechers (SKX), Under Armour (UA), and Timberland (VFC). They also have factories in Vietnam. They would be affected by the TPP.
US tariffs on footwear imported from Vietnam can range from 5% to 40%, according to OTEXA (Office of Textiles and Apparel). Ratification of the TPP will likely result in lower tariffs and higher profitability for Nike. This would benefit its gross margins. It could also result in higher footwear production in these countries, particularly Vietnam, due to its cost advantages.
Nike could hire more US workers
However, Nike (NKE) also anticipates higher future employment in the US. The company estimates that ratification of the TPP could result in new jobs being created in the US. According to Mark Parker, Nike's CEO, Nike and its partners are "looking at 10,000 new jobs in manufacturing and engineering…and up to 40,000 jobs across our supply chain."
Together, Nike and VFC account for 0.5% and 0.3% of the portfolio holdings in the SPDR S&P 500 ETF (SPY) and the iShares Russell 1000 Growth ETF (IWF), respectively.