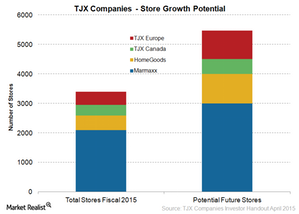 TJX Companies' Store Growth Plans for the US and Abroad
Planned store openings
TJX Companies (TJX) plans to increase its total store count in the long term to 5,475 stores across the US, Canada, and Europe. This represents over 60.0% growth, compared with 3,389 stores at the end of fiscal 2015 ending January 31, 2015.
The company sees the potential to add 1,400 stores in the US alone in the long term. Future international growth plans include ~975 stores in Europe and 500 stores in Canada.
Article continues below advertisement
Same-store sales growth
In 4Q15 ending January 31, 2015, TJX Companies reported 4.0% growth in same-store sales, from the comparable quarter of the previous year. The growth was driven by an increase in store traffic across all divisions. In fiscal 2015, the company's same-store sales increased by 2.0%.
Rival off-price retailers Ross Stores (ROST) and Burlington Stores (BURL) reported same-store sales growth of 3.0% and 4.9% in the comparable fiscal year, respectively. Same-store sales growth for department stores Macy's (M), JCPenney (JCP), and Nordstrom (JWN) measured 0.7%, 4.4%, and 4.0%, respectively.
Initiatives to boost store traffic
TJX is implementing several measures to increase store traffic and drive same-store sales growth. It is implementing a multilayered advertising approach to reach consumers through television, radio, and digital media.
The company is also expanding its non-credit Access loyalty card program to the UK, after receiving a positive response in the US and Canada. TJX Companies also plans to remodel about 225 of its stores to attract more customers.
New stores
In fiscal 2015, new stores opened by TJX Companies in the US include 40 T.J. Maxx stores, 37 HomeGoods stores, 33 Marshalls stores, and two Sierra Trading Post stores. The company also added 23 stores in Canada and 41 stores in Europe.
TJX Companies' store growth plans include 181 stores in fiscal 2016, with the plan to open about 110 stores in the US alone. Internationally, the company plans to add 20 new stores in Canada and 50 stores in Europe in fiscal 2016. TJX also plans to open one Sierra Trading Post store in 2015.
TJX Companies makes up ~0.4% of the iShares Russell 1000 Growth ETF (IWF).