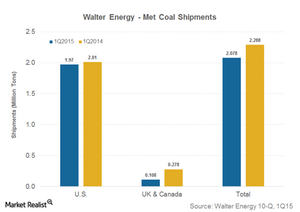 Met Coal Prices and Supply Glut Hamper Walter Energy in 1Q15
By Mike Sonnenberg

May. 12 2015, Updated 3:34 p.m. ET
Production and shipments
Walter Energy, Inc. (WLT) produced 2.0 million tons of met coal through its American mines in 1Q15. The production was lower than 2.1 million tons in 1Q14 since the company curtailed production from its Alabama mines due to difficult mining conditions.
The company sold 1.97 million tons of coal in 1Q15 compared to 2.01 million tons in 1Q14, a 2.1% drop. The drop can be blamed on oversupply in the industry amid a weak-demand environment.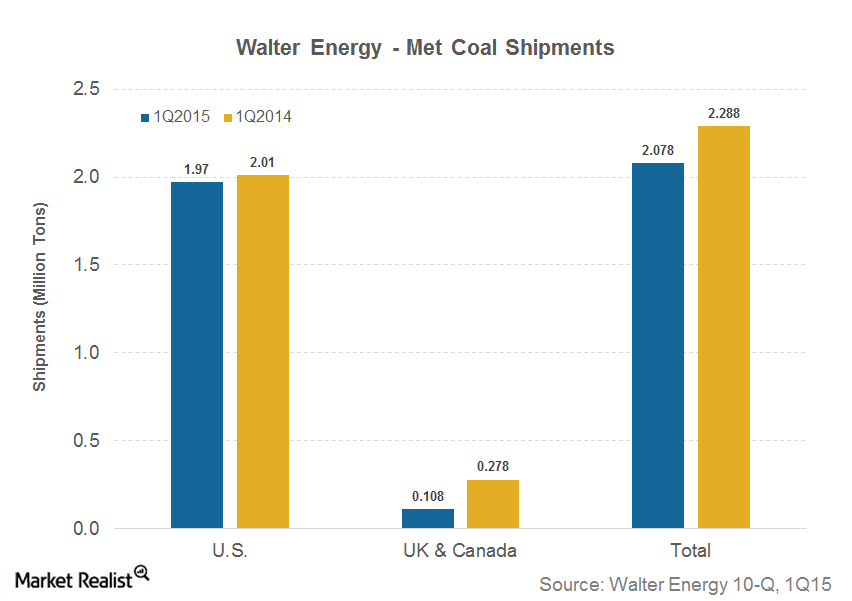 Article continues below advertisement
While Canadian and UK operations remained mostly idle, Walter Energy continued to sell coal from the inventory there. In 1Q15, it sold 108 thousand tons of met coal and 235 thousand tons of PCI (pulverized coal injection) coal, a higher heat value coal. This compares to 278 thousand tons of met coal and 320 thousand tons of PCI coal in 1Q14.
Revenue per ton drops
Due to a continued glut in the met coal market amid the slowdown in China, benchmark met coal prices are still under pressure. The benchmark price for Australian met coal has fallen to $117 per ton in 1Q15, a multi-year low. Met coal producers (KOL), including WLT, Arch Coal (ACI), Alpha Natural Resources (ANR), and Peabody Energy (BTU), have taken a hit because of the low prices.
Walter Energy's operations received $106.40 per ton for its US met coal in 1Q15, down from $127.40 in 1Q14. Canadian and UK operations saw met coal prices plunge to $100.50 in 1Q15, from $123.60 in 1Q14. Since Walter Energy calls itself a pure-play met coal producer with more than 90% of revenues from met coal sales, it's the biggest casualty among American coal producers.
Overall revenues
As a result of continued low prices and lower shipments, Walter Energy's overall revenues fell in the US, UK, and Canadian segments. US revenues dropped to $250.8 million in 1Q15, from $329.8 million in 1Q14. Revenues from Canadian operations dropped to $34.5 million in 1Q15, from $75.4 million in 1Q14.
Total revenues came in at $290.9 million in 1Q15 compared to $413.9 million in 1Q14.