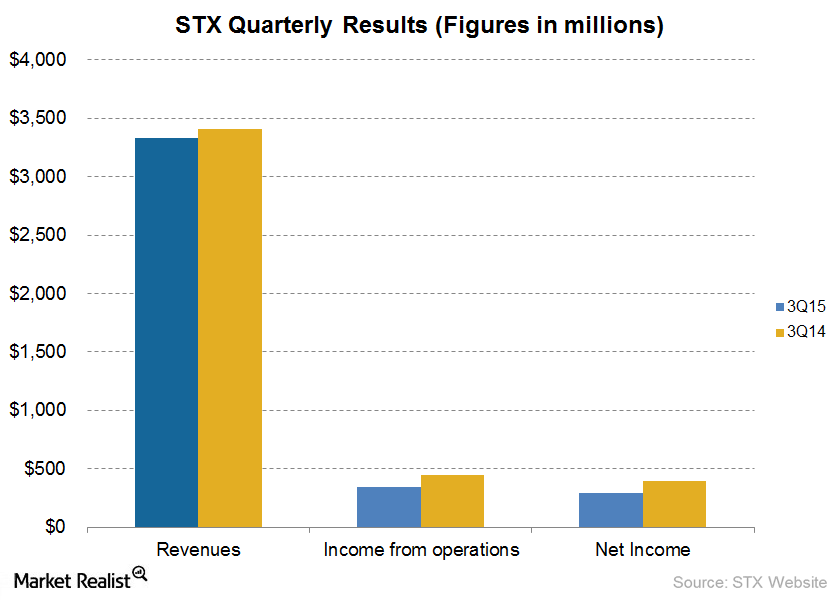 Seagate Technology: 2015 YTD Performance Underwhelms
Tech underperformers
In this series, we will analyze the worst performing stocks in the technology sector and the reasons for their lackluster performance since the beginning of 2015.
The stocks that have been underperforming since January 2015 and their returns are:
Here, we'll discuss the year-to-date performance of Seagate Technology.
Article continues below advertisement
About Seagate Technology
Founded in 1979, Seagate Technology (STX) designs, manufactures, and sells data storage products globally. Seagate is headquartered in Cupertino, California, with a current employee strength of ~60,000. In terms of revenue, Seagate is the second largest provider of disk drives after Western Digital.
Seagate comprises 0.45% of the total portfolio of the Technology SPDR ETF (XLK), a fund that tracks the performance of over 90 publicly listed companies in the technology sector.
Fall in stock price
The share price of Seagate Technology (STX) fell from $66.67 in January 2015 to $57.43 as of May 14, 2015—a decline of 14.54%. The share price has fallen steadily in the last few months due to the disappointing quarterly results declared by the company.
Article continues below advertisement
Weak PC demand reduces Seagate earnings
In April 2015, Seagate Technology declared its 3Q15 results and reported revenues of $3.3 billion, a decline of 2% compared with 3Q14. The earnings per share (or EPS) were $1.08 and saw a decline of 19%. The company's net income also declined by more than 26% to $291 million.
Seagate's management stated that macroeconomic pressures in Europe, which resulted in a decline in demand for PC computers, significantly affected revenues in 3Q15.
Outlook for Seagate
Although Seagate's (STX) 3Q15 earnings missed analyst expectations, the fundamentals of the firm seem strong. The company's net cash flow from operations increased by 68.57% to $1.4 billion, compared with 3Q14. The return on equity for STX is higher than the industry average and the S&P 500. In the long run, Seagate Technology is also expected to benefit from a global increase in data storage needs.
The next article in this series discusses the year-to-date performance of Hewlett-Packard.