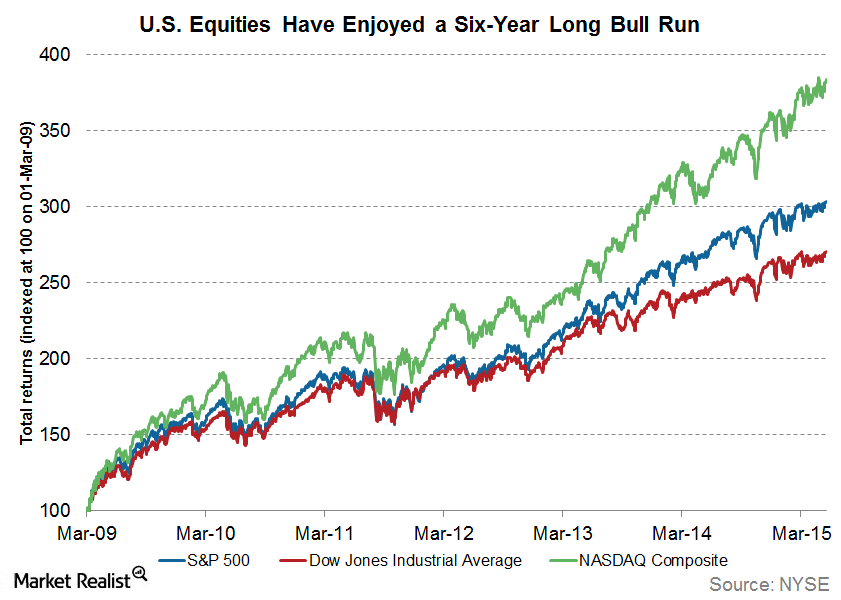 Rising Stocks: Why It May Not Be Time for the Jitters
By Russ Koesterich, CFA

Dec. 4 2020, Updated 10:53 a.m. ET
Russ explains why he continues to favor stocks over bonds, even as the S&P 500 notched new record closes last week.
U.S. equities advanced, with the S&P 500 Index notching new record closes over the course of the past two weeks.
Given that we're in the sixth year of a bull market, investors are understandably getting nervous, particularly with rate and currency volatility spiking. Despite the challenges, there may be a compelling case for stocks.
Article continues below advertisement
Market Realist:
US equity markets have had investors in a tizzy for more than six years now. Although positive news may not be forthcoming on a daily basis, the overall trend has been onward and upward.
The S&P 500 (SPY) has more than tripled since March 2009 when it touched a low of 676 points. The previous graph shows the 6-year upward trajectory that the S&P 500 (IVV), the Dow Jones Industrial Average (DIA), and the NASDAQ Composite (QQQ) have followed.
The current bull run is now the third-longest in history, as you can see in the previous graph. According to estimates by Goldman Sachs, the S&P 500 has rallied for more than 827 trading days without a significant 10% draw-down.
Rising stocks have been buoyed by various factors, including the accommodative monetary policy of the Federal Reserve and robust US corporate earnings. Quantitative easing and near-zero rates have helped propel equities higher.
Earnings have more than doubled since 2009. Indeed, FactSet Research estimates 2015 earnings will be $119.79 per share—based on bottom-up EPS (earnings per share) estimates—nearly double the $59.92 per share recorded in 2009.