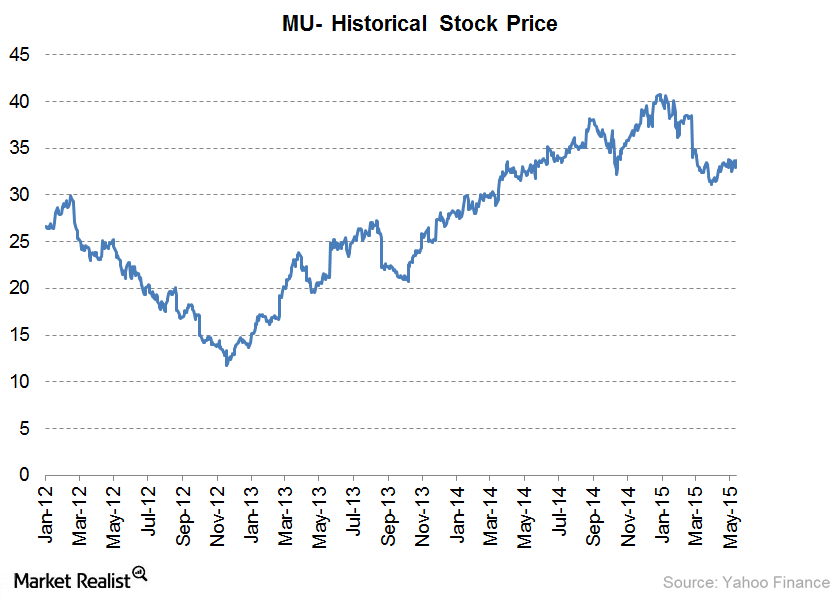 The Rise and Fall of Micron Technology's Stock Price
Overview of Micron Technology
Micron Technology (MU) is a global leader in advanced semiconductor systems. Micron has a broad portfolio of high-performance memory technologies, including DRAM (dynamic random-access memory), NAND flash memory, and NOR flash memory. Its main competitors include Intel (INTC) and SanDisk (SNDK).
MU constitutes 0.15% of the S&P 500 ETF (SPY) and 0.72% of the Technology SPDR ETF (XLK) ETF. In this article, we'll explore the reasons behind the rise and fall of Micron Technology's stock price over the last three years.
Article continues below advertisement
Micro Technology stock overview
The shares of Micron Technology (MU) have regularly attracted investors, as it historically was traded at a discount. Around late 2012, its stock price was at a low of $12 per share due to a price war originating from low demand for memory chips. After that, the stock's price began to gain momentum, with regular trading above its moving average. The recovery in Micron Technology's share price is attributed to the revolution in the mobile device industry.
The weaker firms in this segment went bankrupt or were acquired for consolidation by rival firms. In 2013, Micron Technology also acquired Tokyo-based conductor firm Elpida. This acquisition allowed Micron to gain market share in the memory chip segment, becoming a leading supplier of memory chips for the automotive industry.
The majority of the DRAM chip market is controlled by three firms, including Micron Technology. This allows the the company to enjoy increasing pricing power and profitability as a result of its high margins.
Article continues below advertisement
MU share price declines on low demand, currency pressure
Since the beginning of 2015, the share price of MU has fallen from $34.75 to $26.69, a 23.19% decline in investments. The main concern for investors is the gradual increase in competition that can oversaturate the DRAM market. As DRAM is a critical component in PC manufacturing, the decrease in global demand for PCs has contributed to this negative trend.
Micron Technology also suffers from a strong dollar exchange rate, as the firm conducts a sizable amount of its business overseas. A large part of the company's clientele is based in Japan, and the weakness of the Japanese yen also negatively impacted MU's earnings.
Outlook for Micron Technology
Despite these setbacks, Micron Technology (MU) remains a fundamentally strong company. The volume of the company's products should rise substantially, given the increasing use of memory in mobile devices across the globe. Micron Technology is also looking to increase market share in the NAND flash memory market in the near future.
In addition to this, MU's revenue growth has outpaced that of its industry, and analysts believe that the firm is trading at attractive levels.
The final article in this series will discuss the year-to-date performance of SanDisk Corporation (SNDK).