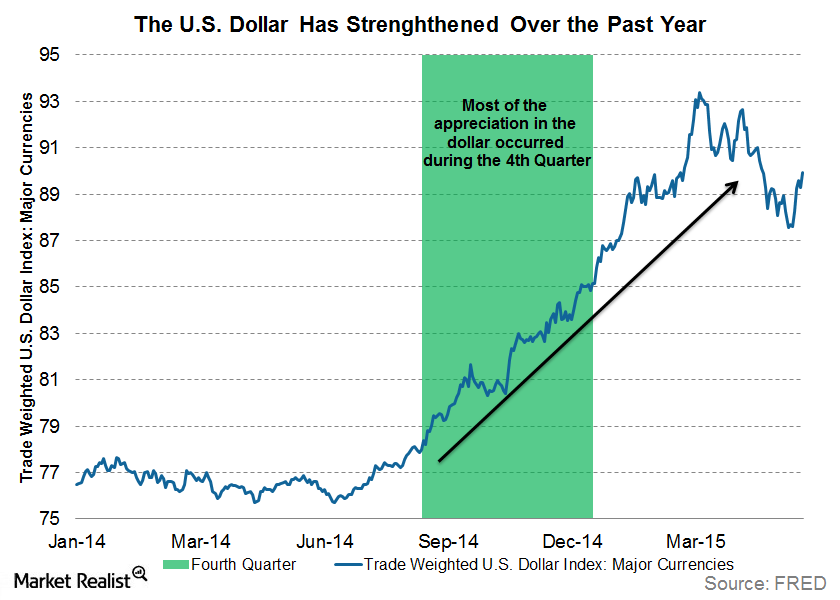 Receding Currency Headwinds Favor US Tech
Looking forward, there's a good chance the dollar headwind is going to let up a bit and receding currency headwinds are likely to favor second-quarter results. Last year, much of the appreciation in the dollar occurred during the fourth quarter, meaning companies were likely a bit behind the curve in putting their hedging strategies in place, and first-quarter results were negatively impacted as a result.
Assuming we don't see a similar surprise quick appreciation in the near future, given that the dollar has weakened recently, the currency impact should be less this quarter. Indeed, when you strip out the dollar impact from many tech companies' earnings, you get even stronger first-quarter results.
So what does this all mean for investors? Now may be a good time to consider U.S. tech stocks. I still see upside potential for the sector and believe it's one place to find value within the overpriced U.S. market.
Article continues below advertisement
Market Realist:
The above graph shows the trade weighted US dollar index against major currencies (UUP) over the past year. Most of the appreciation in 2014 came in the last quarter, as shown above. Although currency volatility still seems to be the norm, tech companies (VGT) are likely to fare better, given their hedging techniques. Receding currency headwinds are likely to buoy earnings in the coming quarters.
The tech sector is also likely to fare better in a rising rate environment. As the Federal Reserve prepares for a rate liftoff, yields and borrowing costs are set to go up. However, tech stocks are not likely to be affected. With their cash reserves and unlevered balance sheets, the tech sector is not likely to feel the heat of rising borrowing costs in the future.
Another factor benefiting the tech sector is cyclical momentum. As the economy continues to improve, spending on technology is likely to go up. The technical infrastructure of the US is aging, and economic growth could propel spending and investment in hardware, a tailwind for mature tech stocks.
The US tech sector (XLK) also looks relatively attractive on the basis of valuation multiples. The previous graph shows the forward price-to-earnings multiples of all ten S&P 500 sectors (VTI) (IVV). Technology, telecom, and financials (XLF) look the most attractive in the lineup.
Although the valuation multiples for the tech sector are higher than its historical averages, the prices are supported by robust earnings growth.
Read on to the final part of this series to understand why now may be the time to hold US tech stocks.