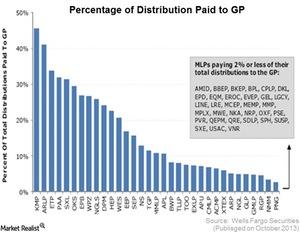 The Pros and Cons of Incentive Distribution Rights
By Victor Cheng

Updated
How high splits affect MLPs
A high split occurs when the incremental cash distribution of the company is split between GP (general partner) and LP (limited partner) equally.
Article continues below advertisement
Advantages of IDRs
IDRs incentivize the GP to manage operations efficiently, look out for acquisitions in order to acquire new assets, and build new assets. Each of these initiatives helps to improve the cash distribution to both GP and LP unit holders.
Disadvantages of IDRs
Whenever the cash distributions reach the stage where incremental cash distribution is divided equally between a GP and a LP (or high splits), the future growth prospects of the MLP becomes challenging because for every extra dollar that the MLP pays to its LP, it has to pay the equivalent amount to the GP.
MLPs that have reached high splits or are nearing them have more difficulty going forward to increase their cash distribution to unit holders. If they want to grow their cash distribution by 5%, then the MLP needs to grow its available cash distribution by more than 5%, as they have to pay equal incremental cash distribution to both a GP and a LP.
Restructuring of IDRs
Most MLPs restructure the IDRs when they reach high splits, as growth is capped. The markets view IDR restructuring favorably. Some MLPs who have restructured their IDRs and have a major weight in the Alerian MLP ETF (AMLP) are as follows:
In the next part of the series, we'll discuss how MLPs grow and the key factors to look out for as an investor in MLPs.