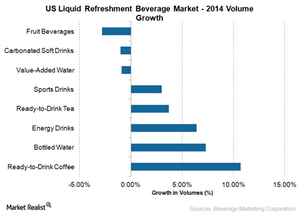 PepsiCo Strengthens Portfolio with New AMP Energy Flavors in May
New AMP Energy flavors
On May 18, PepsiCo (PEP) announced the launch of four new energy drink flavors under its AMP Energy brand. The new flavors are AMP Energy Strawberry Limeade, AMP Energy Passion Fruit, AMP Energy Blueberry White Grape Zero, and AMP Energy Watermelon Zero. With these new flavors, PepsiCo plans to strengthen its AMP Energy portfolio, which already includes AMP Energy Original and AMP Energy Cherry Blast.
Article continues below advertisement
PepsiCo stated that its innovation was based on a recent Evaluative Criteria Energy A&U Study. The study revealed that ~71.0% of energy drink consumers consider better taste more important than the energy factor. The study also reflected a lack of unique and exotic fruit flavors in the energy drinks category. PepsiCo has updated the packaging of its AMP Energy product line to highlight the brand's attractive new flavors.
Why PepsiCo needs to focus on energy drinks
According to Beverage Marketing Corporation, energy drink volumes increased by 6.4% in 2014. This is in contrast to carbonated soft drink volumes that declined by 1.0%. Carbonated soft drinks continue to be the largest category of the US liquid refreshment beverage market. PepsiCo is expanding its energy drink offerings to capture the continued growth in the energy drinks market in the United States and around the world.
The new flavors in energy drinks will also help PepsiCo fight its rival Coca-Cola (KO). Coca-Cola is set to close its much-talked-about deal with Monster Beverage (MNST) in the second quarter of 2015. In the deal, Coca-Cola will acquire a 16.7% stake in Monster Beverage and swap its energy drinks business for Monster Beverage's non-energy portfolio. Coca-Cola will transfer its energy drink brands like Burn, Full Throttle, NOS, Play, Power Play, Mother, and Relentless.
PepsiCo needs to up its game in the energy drinks market, which is highly dominated by Monster Beverage and Austria-based Red Bull. Dr Pepper Snapple (DPS), the third largest soda maker in the United States, also lacks a strong energy drink portfolio.
PepsiCo makes up ~0.8% of the portfolio holdings of the iShares Core S&P 500 ETF (IVV).