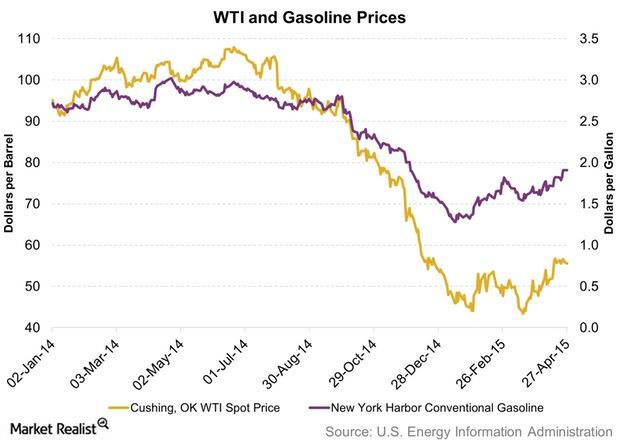 Is PCE Inflation Starting Its Upward Move?
By David Ashworth

May. 1 2015, Published 12:10 p.m. ET
Moving on up?
The Federal Reserve has maintained that PCE (personal consumption expenditures) inflation will begin moving toward its long-term objective as the transitory effect of the drop in energy prices dissipates. And they may be seeing just that. After falling for three successive months in November, December, and January, PCE inflation rose by 0.2% in February and March.
This is a result of a rise in crude oil prices (USO) (OIH) and thus gasoline prices. Cushing OK WTI spot price fell to $44.08 per barrel in January, according to the EIA (U.S. Energy Information Administration). As of April 27, the price rose to more than $55.50 per barrel. New York Harbor Conventional Gasoline's price had fallen to $1.283 per gallon in January. It has now risen to $1.906 per gallon as of the end of April.
In April, oil-related stocks like Schlumberger (SLB), BP plc (BP), and ConocoPhillips (COP) have risen 13.4%, 10.4%, and 9.1%, respectively, from the end-of-March levels.
Article continues below advertisement
Change in language
The FOMC (Federal Open Market Committee) has noted this fall in energy prices and modified the language of its monetary policy statement. In March, the FOMC stated that inflation had fallen, "largely reflecting declines in energy prices." In its April statement, the FOMC said that inflation remains below policymakers' objective, "partly reflecting earlier declines in energy prices and decreasing prices of non-energy imports."
Note the addition of the word "earlier" in the April statement. A decline in non-energy import prices is also contributing to the low inflation rate. With a rise in energy prices since the last meeting in March, policymakers have become confident about the trajectory of crude oil prices. This, in turn, gives them confidence about PCE inflation returning to its favored trajectory.
Take note that PCE inflation doesn't need to hit 2% in order for the FOMC to act. It just needs to start consistently rising toward that level.
It's important to note that this favorable change in language in the statement hinges on crude oil prices. If prices start moving south again, it will severely hurt the chances of the FOMC being able to raise the federal funds rate in 2015.
Let's take a look at the labor market in the next article.