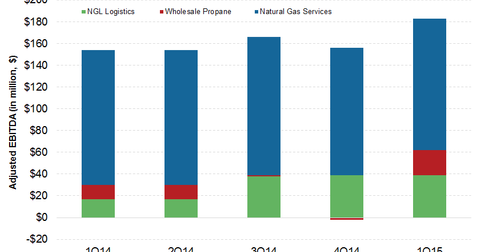 NGL Logistics Segment Drove DPM's Performance in 1Q15
By Kurt Gallon

Updated
NGL Logistics
NGL Logistics was DCP Midstream Partners' (DPM) top-performing segment in 1Q15. The segment's adjusted EBITDA (earnings before interest, tax, depreciation, and amortization) increased by 129.4% in 1Q15 on a quarter-over-quarter (or QoQ) basis, driven by an increase in NGL (or natural gas liquids) pipeline throughput volumes.
In 1Q15, the NGL pipeline throughput increased by 160,000 barrels per day from 1Q14. This resulted from the dropdown acquisition of Sand Hills and Southern Hills, as well as strong volumes across the Black Lake system.
Article continues below advertisement
Wholesale Propane Logistics
DCP Midstream Partners' Wholesale Propane Logistics segment experienced strong demand in 2015 due to a cold winter in the Northeast. Overall, the segment's propane sales volumes were flat in 1Q15, compared with 1Q14.
However, the segment's adjusted EBITDA increased by 76.9% on a year-over-year basis due to higher unit margins in 1Q15, compared with 1Q14.
Natural Gas Services
DCP Midstream Partners' Natural Gas Services segment is involved in natural gas compression, gathering, processing, transportation, and storage. During 1Q15, lower natural gas prices affected the segment's market-related earnings. The segment's adjusted EBITDA fell by 2.4% in 1Q15 on a year-over-year basis.
The effect of lower commodity prices was partially offset by hedges. We will discuss this in more detail in the next article. The segment's performance was also affected by lower unit margins on storage assets.
The segment's throughput volumes increased marginally during 1Q15, partly driven by the Keathley Canyon project, which came online during the same quarter. DCP Midstream Partners' acquisition of the remaining 20% in the Eagle Ford system was another factor. Eagle Ford system volumes fell compared to 4Q14 due to temporary operational challenges and third-party outages.