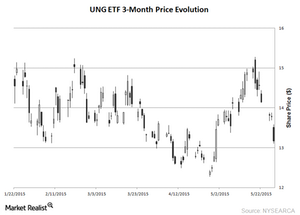 Natural Gas Prices Slump due to Increasing Inventory Data
Natural gas prices drop
This series analyzes natural gas prices and fundamentals. For an in-depth look at natural gas and related companies, sectors, and drivers, please refer to our Energy and Power page.
Natural gas futures for July delivery slumped by 4.95% on Thursday. Prices declined due to rising natural gas inventory data. Natural gas continued its losing streak for the fourth day and settled at $2.70 per MMBtu (British thermal units in millions) on May 28, 2015. ETFs like the United States Natural Gas Fund LP ETF (UNG) mirrored the price direction of natural gas in Thursday's trade. UNG declined by 4.43% and settled at $13.17 on May 28.
Article continues below advertisement
The EIA (U.S. Energy Information Administration) published the weekly natural gas report on May 28, 2015. It showed that gas in storage rose by 112 Bcf (billion cubic feet) for the week ending May 22—compared to an increase of 92 Bcf the previous week. A market survey shows that the stockpile might increase by 87 Bcf for the week ending May 22, 2015. The better-than-expected inventory increase put pressure on natural gas prices.
Commodity Weather Group reported that weather will be mild in several parts of the US. Weather will be normal in Texas and New York in the first week of June 2015. Mild weather could curb the cooling demand in the short term. This will also put pressure on natural gas prices.
This is the fifth down day for natural gas prices over the last ten days. Prices fell by 1.90% more on the down days than on the average up days, during the same period. Natural gas futures for July delivery were at the bottom of the performance table across all of the commodities at the close of trade on Thursday. Gas prices fell by 2.11% YTD (year-to-date)—led by mild weather and slowing demand.
The massive decline in natural gas prices negatively impacts oil and gas producers like EXCO Resources (XCO), Devon Energy (DVN), and ConocoPhillips (COP). Combined, they account for 3.28% of the Spider Oil and Gas ETF (XOP). These companies have a natural gas production mix that's greater than 43% of their total production.