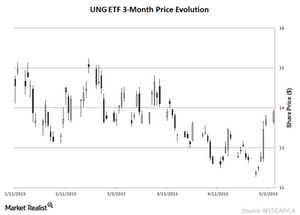 Natural Gas Prices Rise for 5 Consecutive Days on Rising Demand
Natural gas price gains
Below is our natural gas price fundamental analysis. For an in-depth look at natural gas and related companies, sectors, and drivers, please refer to our Energy and Power page.
NYMEX-traded June natural gas futures increased by 1.62% on Monday—led by the consensus of warm weather estimates. Prices rose for the fifth consecutive day and closed at $2.82 per MMBtu (British thermal units in millions) on May 4. The United States Natural Gas Fund LP ETF (UNG) mirrored the price movement of natural gas and rose by 1.39% at the close of trade. UNG prices closed at $13.90 on Monday, May 4, 2015.
Article continues below advertisement
Government forecasting systems signaled that weather will be above normal temperatures in the Midwest and northeastern US next week. Cities like New York and Chicago will experience warmer weather, according to AccuWeather sources. The warm weather will increase the need for cooling. This will increase the demand for electric power. In turn, the demand for natural gas will increase in the short term.
On April 30, 2015, the EIA (U.S. Energy Information Administration) reported that weekly gas in storage increased by 81 Bcf (billion cubic feet)—compared to the market consensus of 86 Bcf. The lower-than-expected natural gas inventory data also supported gas prices last week. The next EIA report is expected to release on Thursday, May 7.
Gas prices increased for the sixth day over the last ten trading sessions. Prices increased by 1.29% more on the average up days than on the average down days, during the same period. Silver May futures ruled the charts yesterday. June natural gas futures came in second across all of the commodities. In contrast, gas prices declined more than 3% YTD (year-to-date)—led by over supply concerns.
Higher natural gas prices are positive for gas producers like Chesapeake Energy (CHK), ConocoPhillips (COP), and ExxonMobil (XOM). These stocks have a natural gas production mix that's more than 43% of their total production portfolio. They account for 3.17% of the Spider Oil and Gas ETF (XOP).