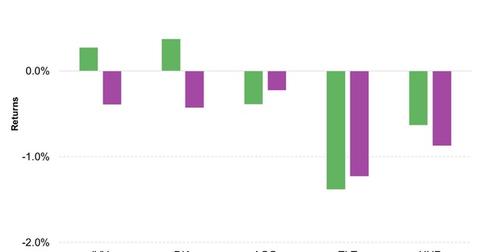 Should Markets Be Happy or Worried about April FOMC Statement?
By David Ashworth

Updated
Equities fall
Equities have been big beneficiaries of the low interest rate regime in the United States. But with the on-again, off-again talk of an interest rate hike, they're not sure what to make of it. Should they be happy about a later-than-expected hike? Or should they be worried that the optimism of the FOMC (Federal Open Market Committee) may spell the end of their golden run?
After April's statement, stocks fell. The iShares Core S&P 500 ETF (IVV) and the SPDR Dow Jones Industrial Average ETF Trust (DIA) were each down 0.4%. The S&P 500 touched a low of 2,097 before recovering and ending up at ~2,107, eight points down from its previous close.
Defensive sectors like healthcare and consumer were the biggest losers. Humana (HUM) fell 7.2% on April 29, while UnitedHealth (UNH) and Target (TGT) were down 3.4% and 3.2%, respectively.
Article continues below advertisement
Treasuries fall
Bonds and Treasuries seem to have taken the optimism of the FOMC as a sign of an approaching rate hike. Yields in the ten- to 30-year Treasury segment fell six to eight basis points on April 29. Yields and prices in fixed-income products are inversely related, and thus prices fell for the day. A rate hike is negative for bonds, since interest rates push yields higher, thus driving prices down.
The iShares Barclays 20+ Year Treasury Bond Fund (TLT), which tracks the 20–30 year maturity segment, fell 1.2% on April 29. Meanwhile, the iShares Core U.S. Aggregate Bond ETF (AGG) fell 0.2%. Both ETFs fell on the previous day as well.
The dollar tanks
The dollar fell against its peers, with the PowerShares DB U.S. Dollar Index Bullish Fund (UUP) down 0.9% on April 29. Like bonds, it also posted losses on the previous day.
However, the dollar's fall was primarily due to a weak US economic output number. The FOMC announcement actually helped cushion its fall. The FOMC's optimism on the US economy and labor market going forward helped absorb some of the shock caused by the weaker-than-expected GDP (gross domestic product) growth.
Does the Fed's cautious optimism tell us anything about the rate hike? Let's look at that in the next article.