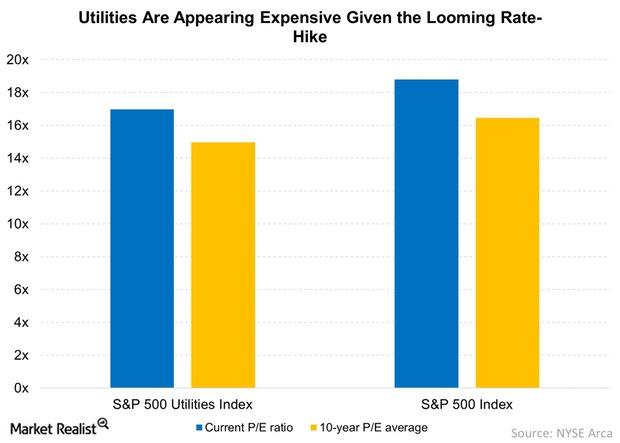 Looking for Dividends? Stay Away from the Utilities and REITs
By BlackRock

Nov. 20 2020, Updated 4:56 p.m. ET
Guest contributor Tony DeSpirito explains how investing in dividend-paying stocks isn't what it used to be – and how to make dividend investing work in your portfolio.
Somewhere along the yield curve, with rates lingering barely above zero, the dividend calculus got more complicated.
Utilities and REITs are no longer the easy favorites as investors starved for income bid up prices. In their place, dividend investors are turning to sectors such as health care, technology and financial services where the earnings prospects seem strong and the Fed seems distant. The new equation combines the search for competitive dividend yield with an emphasis on superior dividend growth.
Article continues below advertisement
Market Realist – Stay away from the utilities and REITs because they don't look attractive.
The graph above compares the PE (price-to-earnings) ratio for the S&P 500 Utilities Index and the S&P 500 Index (SPY). Currently, the utilities sector is trading at 17x earnings—compared to 15x, historically. Meanwhile, the S&P 500 is trading at 18.8x earnings—compared to 16.4x, historically.
In the past, the utilities sector (XLU) (IDU) traded at a discount of ~12% to the broader market, while the current discount is close to 10%. This means that the utilities sector is slightly overvalued compared to the broader market.
However, what makes the utilities unattractive is the fact that interest rates will likely be rising soon. The utilities require a huge amount of infrastructure. This is why these firms often carry large amounts of debt. A rising interest rate scenario squeezes their margins—making them unattractive.
REITs (IYR) (VNQ) also require large amounts of capital. This makes them unattractive as interest rates rise—just like the utilities.
Since REITs and the utilities are very sensitive to interest rate hikes, a rise in rates will put pressure on their earnings. In turn, this would put pressure on their dividend yield.