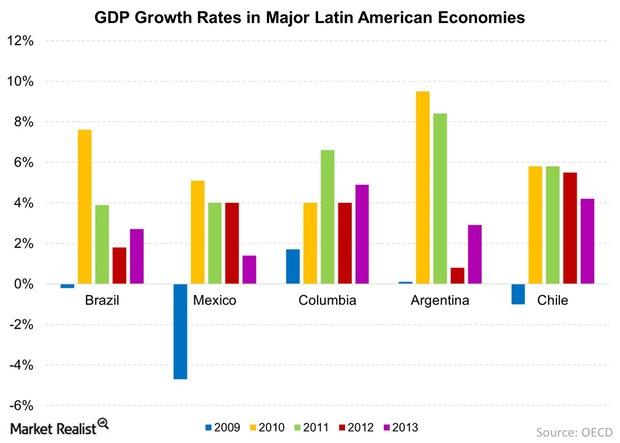 Latin America Is at a Crossroads
By BlackRock

Aug. 18 2020, Updated 5:15 a.m. ET
Tough choices ahead for Latin America
The Latin America we know today has been more than 30 years in the making. Economic reforms encouraging trade liberalization and private sector investment helped Latin America claim a seat in the global financial ecosystem after the crises of the 1990s. Just like in the 90s, Latin America today is at a crossroads, with diverging economies attracting both positive and negative attention from the global community.
Article continues below advertisement
Market Realist: Latin America is at a crossroads
The graph above compares the GDP (gross domestic product) growth rates in major Latin American countries since 2009. Most major economies in the region cooled down in 2013 and have decelerated in 2014 as well.
Brazil
Brazil (EWZ) grew at a rate of 7.6% in 2010, but it cooled down to 2.3% in 2013. In 2014, it expanded by a meager 0.1% due to low commodity prices, poor global demand, budget cuts, and declining investment spending. Brazil is dependent on commodity prices. Its economy, like most others in Latin America, faces infrastructure-related bottlenecks.
Article continues below advertisement
Mexico
Mexico (EWW) suffered in the aftermath of the financial crisis, with negative growth of -4.7% in 2009. Nevertheless, growth did pick up in subsequent years, growing by 5.1% in 2010 and 4% in 2011 and 2012. In 2013, though, it expanded by only 1.4% Having said that, the Mexican economy did pick up speed in 4Q14, thanks to improving domestic demand and net exports.
Columbia
Colombia has grown at a fast pace in the last few years. It grew by 4% in 2010, by 6.6% in 2011, and by 4% in 2012. In 2013, it grew by a respectable 4.9% while most other countries in the region were struggling. It bucked the trend in 2014 too, growing by 4.6%. Though exports slumped, consumption and investments supported the economy.
The economy lost momentum in the second half of 2014, due to the slump in oil (USO) prices. Remember, Colombia, Ecuador, and Venezuela are all oil-rich countries, and the latter two are part of OPEC (Organization of the Petroleum Exporting Countries).
Article continues below advertisement
Argentina
Argentina grew by 9.5% in 2010 and 8.4% in 2011 before decelerating drastically to 0.8% growth in 2012. The economy bounced back in 2013, growing by 2.9%. But in 2014, it posted only 0.5% growth.
Consumer sentiment is on the rise, and expectations of a more pragmatic government in the form of the Frente Renovador party—the renewal front—are increasing.
Chile
Chile is one of Latin America's most stable and prosperous economies. Chile has seen stable growth for the last few years. After growing at close to 6% between 2010 and 2012, Chile's economy grew by 4.2% in 2013. Meanwhile, low and dwindling consumption affected growth in 2014. The mining sector also took a hit. Still, Chile has the best infrastructure in Latin America.
Latin America (LAQ) (ILF) is seeing a divergence in its growth patterns. Atlantic-facing economies are struggling while Pacific-facing economies are faring better. We'll discuss this in detail in Part 5 of our series.