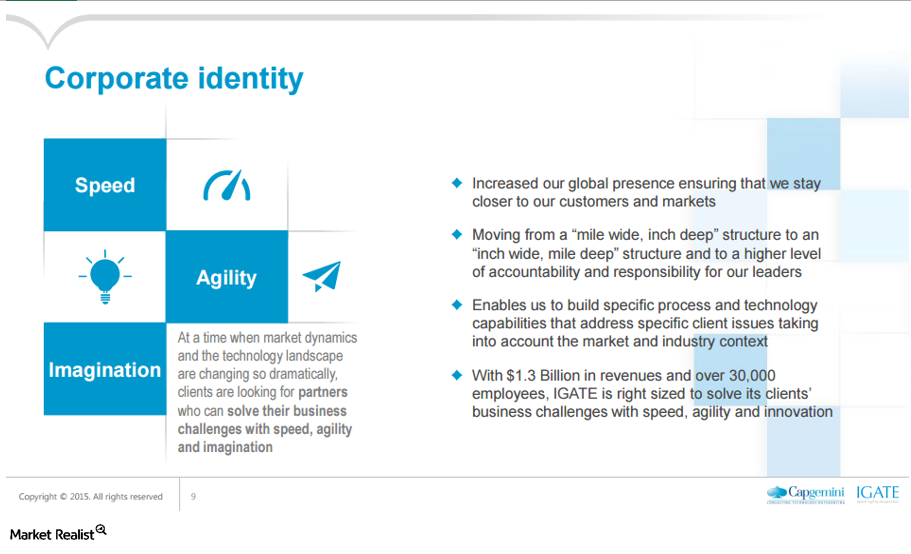 What Kind of Return Will the IGATE–Capgemini Spread Yield?
By Brent Nyitray, CFA, MBA

Dec. 4 2020, Updated 10:52 a.m. ET
The annualized return is probably pretty tight
In the IGATE (IGTE)–Capgemini merger, you're getting about a 1.6% annualized yield. That's probably a little tight, even in such a low interest–rate environment.
Article continues below advertisement
There was no process run
Back in the days when there were a lot of players in the risk arbitrage space, it wasn't unusual to see deals where a process wasn't run to trade slightly through the terms of the deal. Since competitive situations—and avoiding the landmines—is how you succeed at risk arbitrage investing, most portfolio managers or traders will have something like this on the page, just in case something good happens. It probably won't be a core position, but you're getting paid a small return in exchange for a potential bump. Once the 30-day period passes, if the spread is still tight, it's probably a sale.
What about timing?
You could conceivably get a return out of this deal, even without another bidder if the process goes quicker than expected. This deal could easily get an early termination for Hart-Scott-Rodino, and the Committee for Foreign Investment in the United States review should be pro forma. Yet, to turn this into a reasonable return, you're looking at a July close. This isn't outside the realm of possibility, but it could be tough, especially since there's a shareholder vote.
Merger arbitrage resources