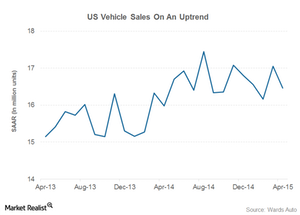 Automobile Industry Indicators Investors Should Track
By Mohit Oberoi, CFA

May. 15 2015, Updated 4:53 p.m. ET
US automobile industry
US automobile companies like General Motors (GM) and Ford (F) are historically among the largest automobile manufacturers globally. Some Japanese and Korean companies have eaten into that share. The trend is apparent in the United States as well as on a global level. Toyota Motor Corporation (TM) is now the largest automobile manufacturer globally. It currently forms 5.1% of the iShares Global Consumer Discretionary ETF (RXI).
Article continues below advertisement
US vehicle sales pick up
In this series, we'll look at some key automobile industry indicators that investors should track. US vehicle sales is one industry indicator. Sales have picked up momentum in the last one year, as you can see in the above chart. The automobile industry forms part of the consumer discretionary sector (XLY). The fortunes of automobile companies are closely tied to the broader economy.
Key automobile industry indicators
A country's employment situation is a key driver for vehicle sales. Consumer confidence is another key indicator that investors in automobile companies should track. Prevailing interest rates on new automobile loans also impact vehicle sales. In this series, we'll be looking in detail at the latest trends in these indicators.
US automobile companies have their operations on a global scale. We'll look at some of the global indicators investors should track. China, Japan, and Europe are some of the major automobile markets. In the recent quarter, profitability of US auto companies was hit hard by the strength of the US dollar. We'll also analyze the recent trend in the US dollar index.
In the next part of this series, we'll take a look at the employment situation, one of the most important indicators investors in automobile companies should track. We'll also look at the latest trend in the US job market.