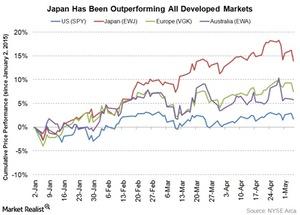 Japan Outperforms Markets So Far this Year
Japan outperforms major markets
Japan is outperforming the markets. On a YTD (year-to-date) basis, Japanese equity has outperformed all major developed markets, including Europe. As of April 5, the iShares MSCI Japan ETF (EWJ) had gained about 15.93%. In comparison,the US had gained 2.97% (SPY) and Europe (VGK), 8.67%.
The rally in Japanese equities is being led by companies such as Sony (SNE), which has surged ahead by 52.47% YTD, Mitsubishi UFJ Financial (MTU), which is up 28.75%, Honda Motor (HMC), which has gained about 16.23%, and Toyota Motor (TM), which is up 11.66%.
Article continues below advertisement
Economic reforms after a rough ride in 2014
After a bumpy 2014, Japanese equity is sailing free and clear so far this year, boosted by the Bank of Japan's initiatives and the government's three-pillared Abenomics.
In 2014, investors remained concerned over the potential impact of the consumption tax increase from 5% to 8%, implemented in April 2014, and the negative GDP (gross domestic product), recorded in the second and third quarters. So, the Japan-tracking iShares MSCI Japan ETF (EWJ) stayed almost flat throughout the year.
On October 31, 2014, the Bank of Japan and the Japanese Government Pension Investment Fund jointly announced substantially more asset purchases of Japanese equities. Purchases amounting to about 4.3% of market capitalization of the Tokyo Stock Exchange—valued at $4.5 trillion—have boosted Japanese equity since late 2014.
As of 2015, Japanese equities have benefited a great deal from the following:
Shinzo Abe's Abenomics, a policy that seems to be working for the Japanese economy, boosting discretionary demand for Japanese equity.
A boost in structural demand for Japanese equity stemming from the ~$195 billion in purchases by the Japanese central bank and government pension funds.
Abenomics has worked well for Japan
Abenomics is a three-pronged approach that the Japanese Prime Minister Shinzo Abe likes to refer to as his "three arrows." These include fiscal stimulus, monetary easing, and structural reforms.
Abe's core objective is to pull the world's third-biggest economy out of two decades of stagnation by expanding money supply, freeing up regulations, and encouraging the yen to fall. So far, Abe's policy has worked well for Japan.
Japanese stocks are up by almost 70%— local currency—since late 2012, which coincides with the election of reformist Prime Minister Shinzo Abe. Further gains are likely.