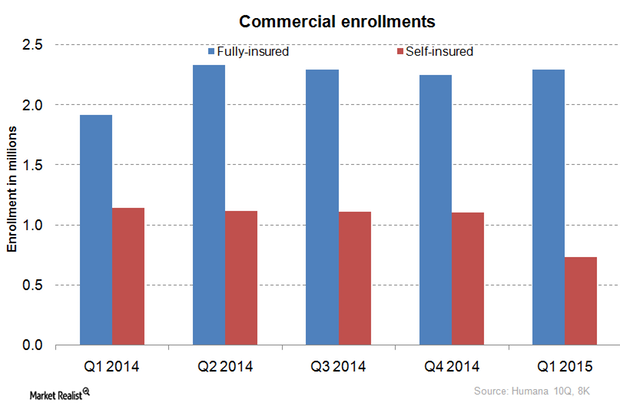 Humana's Commercial Enrollments Face Pressure in 1Q15
By Margaret Patrick

May. 11 2015, Updated 3:06 a.m. ET
Revenue changes
Humana's (HUM) revenues from commercial enrollments increased by 28.4%, from $2.2 billion in 1Q14 to $2.8 billion in 1Q15. Commercial enrollments involve both individual as well as group or employer-sponsored enrollments. Humana's individual commercial revenues rose by 83.9% from $525 million in 1Q14 to $1,094 million in 1Q15, while group commercial revenues remained almost stable at $1.8 billion in the same time period.
Humana derives about 20.3% of its total revenues from commercial enrollments.
Article continues below advertisement
Fully insured enrollments
Humana's fully insured commercial enrollments increased by 20% from 1.92 million in 1Q14 to 2.30 million in 1Q15. With fully insured commercial enrollments, the health insurance company (XLV) assumes the future obligations of the enrollees' claims in exchange for regular premiums from the plan sponsor. In self-insured enrollments, the company only provides administrative support to the plan sponsor. While employer-sponsored enrollments can be either fully insured or self-insured, individual commercial enrollments always belong to the fully insured category.
Humana's individual commercial enrollments, primarily belonging to the company's public exchange product, HumanaOne, increased by 50.8% from 0.83 million in 1Q14 to 1.26 million in 1Q15, reflecting new sales and better member retention, especially in its key Florida market. Individual enrollments also include off-exchange enrollments as well as Medicare supplemental enrollments.
1Q15, however, witnessed an increase in Humana's reliance on the premium stabilization program. This was mainly attributed to poor performance in the individual exchange market in Georgia and increased out-of-network utilization. As Georgia's population is not as healthy as Humana projected, the company is expected to reprice its plans in future years.
Article continues below advertisement
Humana's group commercial enrollments in 1Q15, however, decreased by 10,600 members as compared to the enrollments in 1Q14. This reduction is in line with the company's strategy of winding down its large group business and focusing only on small employers and individuals. Humana implemented this strategy because it is not a national player and does not expect to compete efficiently in this space.
Self-insured enrollments
Though health insurance players such as Cigna (CI), UnitedHealth Group (UNH), Anthem (ANTM), and Humana have been actively shifting from fully insured to self-insured enrollments, Humana suffered a year-over-year decline of 35.5% or 405,200 self-insured members in 1Q15. This reduction is also attributed to the company losing its large employer accounts as a part of its broad business repositioning strategy.