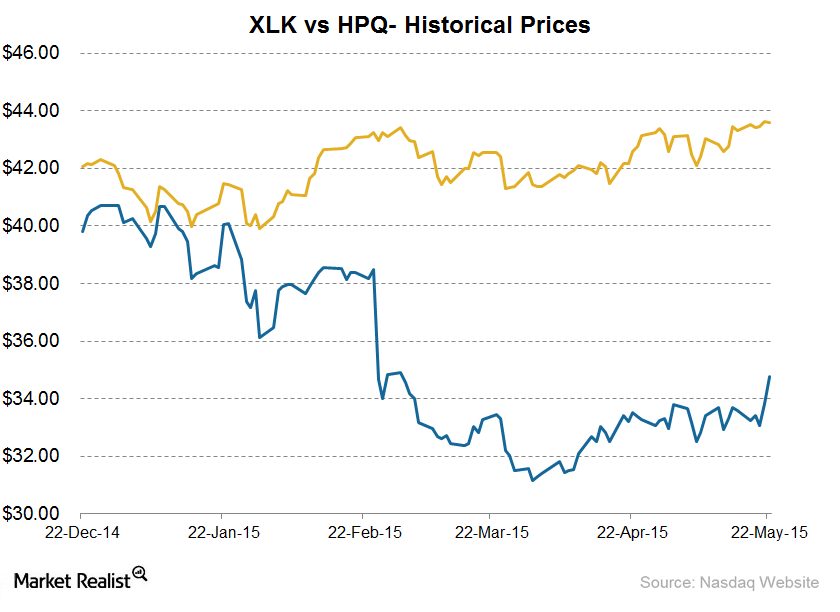 Hewlett-Packard's Stock Price Declines: Disappointing Results
By Adam Rogers

Jun. 2 2015, Updated 9:06 a.m. ET
About Hewlett-Packard 
Hewlett-Packard (HPQ) is a US multinational technology company. It was founded in 1939. It's headquartered in California. The firm has more than 300,000 employees across the globe.
Hewlett-Packard provides products, technologies, software, solutions, and services to individual consumers and small and medium-sized businesses as well as to the government, health, and education sectors worldwide.
Hewlett-Packard accounts for 0.33% of the S&P 500 ETF (SPY) and 0.31% of the Technology SPDR ETF (XLK). Other companies in the computer segment include IBM (IBM) and Dell (DELL).
Article continues below advertisement
Earnings decline and stock price plunges
Earlier this year, Hewlett-Packard declared its 1Q15 results. It reported revenue of $26.8 billion with an EPS (earnings per share) of $0.92—a decline of 5% compared to revenue of $28.15 billion and EPS of $0.90 in 1Q14. The net earnings declined by 4% to $1.4 billion. In the above chart you can also see that Hewlett-Packard's revenue has been declining steadily since 4Q13 with the exception of an increase in revenue for 4Q14.
After it declared its 1Q15 results, Hewlett-Packard's stock price declined by over 5% in after-hours trading. The firm also lowered the outlook for its annual earnings. Since the beginning of 2015, Hewlett-Packard shares decreased by 16.25%.
Hewlett-Packard's stock price fell by 13.38% since the beginning of 2015.
Strong dollar negatively impacted revenue
As over 65% of the revenue is generated in the global markets outside the US. The earnings and profitability have declined due to a sharp rise in the value of the US dollar. According to Hewlett-Packard's CEO, Meg Whitman, the firm lost over $1.5 billion in operating profit due to the strong dollar.
Future outlook 
The firm's long-term outlook appears secure even though the revenue from its PC business declined. Recently, Hewlett-Packard launched "Helion"—its portfolio of cloud products and services.
Hewlett-Packard also plans to split its businesses into two independent, publicly traded companies. One entity will comprise its enterprise technology infrastructure, software, and services businesses. It will operate as Hewlett-Packard Enterprise. The second business will comprise its market-leading personal systems and printing businesses. It will operate as HP Inc.
According to the New York Times, Meg Whitman stated that "HP was not cutting back on research and development, despite the lower earnings, and said valuable new products were on the way, particularly in business computing."