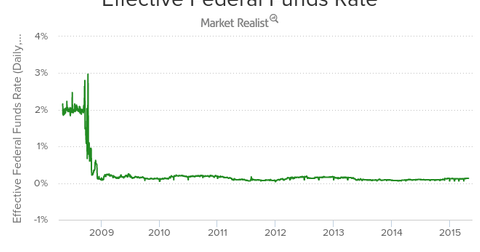 Federal Funds Rate Hike: September, December, Beyond?
By David Ashworth

Updated
Why a rate hike?
Economic growth has slowed down. Inflation is barely inching up toward its goal of 2%. The once stellar labor market has had a hiccup in March. This is not good news if you're eagerly anticipating a hike in the federal funds rate.
A low target range of the federal funds rate has helped both equities and bonds. So why does the Federal Reserve want to hike the rate? Why can't it leave it alone and let equities (SPY) and bonds (AGG) flourish?
[marketrealist-chart id=403206]
Article continues below advertisement
In December 2008, the US central bank took the unprecedented step of reducing its target range for the federal funds rate to 0%–0.25%. It did this to combat the impact of the global economic recession on the US economy. If it hadn't done this, the US economy would have undergone a severe recession. It would have negatively affected everything from the financial markets to your daily life. The financial markets actually could have collapsed.
But the federal funds rate cannot remain at that level forever. Why? With the economy finding its feet, it's a matter of time before job growth will be widespread and people will start consuming more (PG) (WMT) (SBUX). This will push inflation up. If rates continue to remain low, it will result in runaway inflation and an overheated economy. This is as serious as a recession. A rate hike will keep inflation in check.
What now?
The Federal Reserve considers 3.75% the normal level for the federal funds rate. We're far from that. With economic data as they are, what's next for the rate?
Market participants are predicting a federal funds rate hike either in September or December. Policymakers are scheduled to meet in July and October as well, so why a hike in September or December? In four of its eight scheduled meetings in a year, the FOMC (Federal Open Market Committee) releases its economic projections and holds a press conference. It will do that in September and December. But a hike in October remains likely as well.
From here on, a rate hike depends on 2Q15 economic data. A blip here or there may defer the hike. A surprise may make the federal funds rate wait for 2016 for an increase in its target range.