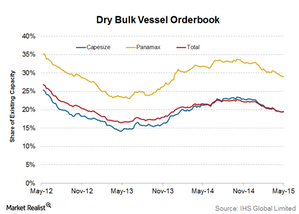 Falling Dry Bulk Orderbook: Positive for Dry Bulk Shippers
Tracking the dry bulk orderbook
The bulk carrier orderbook is a useful indicator. It shows the changes in supply and demand in the dry bulk industry. The number of ships ordered is one of the factors that managers use to determine future supply and demand differences. The indicator will often fluctuate within a certain range. When the orderbook rises significantly above the normal range, it's generally an indication of stressful times ahead.
Article continues below advertisement
Orderbook declines
The bulk carriers' orderbook is expressed as a percentage of total DWT (deadweight tonnage) in service—it represents the operating capacity. DWT is a measurement of the weight that ships can carry. From March 27 to May 15, the orderbook fell by 5% to 19.36%.
According to Clarksons Research, from January–April 2015 dry bulk orders fell to 0.4 million DWT per month—the lowest levels since the 1990s. Clarksons Research commented that "This is a massive 98% reduction from the 23 million dwt peak in orders in December 2007, and probably the sharpest decline in recent decades."
Although this is a good long-term sign in the oversupplied industry, it's also an indication that fewer ships are ordered. This suggests slower demand in the short term.
Orderbook level and shipping equities
The orderbook level is generally considered to lead other value metrics in regards to the supply side dynamics. If the orderbook level continues to fall more from this point and demand continues to grow, we could see some life in dry bulk shipping rates and equities—including DryShips (DRYS), Golden Ocean Group (GOGL), Eagle Bulk Shipping (EGLE), and Star Bulk Carriers (SBLK).
The Guggenheim Shipping ETF (SEA) will also benefit. It invests in major shipping companies around the world. Golden Ocean Group forms 4.9% of SEA's holdings.
The SPDR S&P Metals and Mining ETF (XME) also gives investors exposure to iron ore, coal, and other commodities.
Currently, overcapacity is lurking in the dry bulk shipping industry. As a result, the level of scrapping and demolition is a key indicator to get a sense of the future demand and supply balance. We'll discuss this more in the next part of this series.