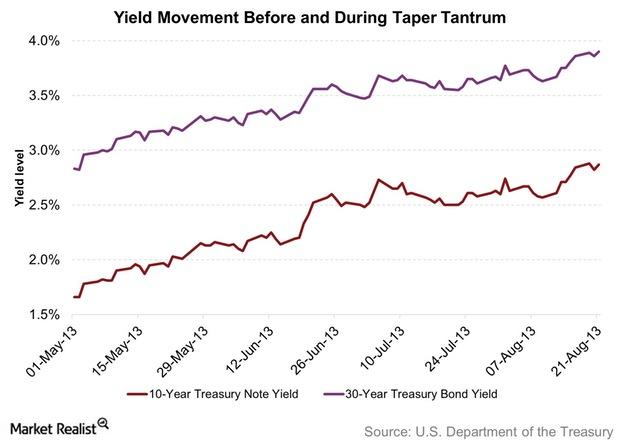 What Should You Expect from Monetary Policy Announcements?
By David Ashworth

Nov. 20 2020, Updated 4:19 p.m. ET
Clear communication
We showed in the previous article why FOMC (Federal Open Market Committee) policymakers are concerned about the low term premiums and the ensuing volatility after policy tightening is announced. So, what do policymakers plan to do to contain this volatility?
During their meeting on April 28–29, some policymakers were of the opinion that communicating policy normalization intentions can control this volatility. They also discussed the benefits of providing explicit signals about policy tightening prior to rate action.
However, most FOMC participants indicated that they would prefer to consider a possible rate hike on a meeting-by-meeting basis. Hence, they are indicating that they do not want to provide any hints about the timing of a rate hike.
Article continues below advertisement
A house divided?
A few participants expressed confidence that available data by the June FOMC meeting would be sufficient to warrant a rate hike. However, most participants were of the opinion that data accrued until June would not be enough to prove the robustness of the economy.
What does this mean for you?
Why should you care about these deliberations? If you're an equity investor (IVV) or have exposure to bonds via ETFs like the Vanguard Total Bond Market ETF (BND) or the iShares Core US Aggregate Bond Fund (AGG), an eventual tightening of monetary policy is bound to impact your investments. If the taper tantrum plays out again, it can increase volatility and negatively impact fixed income investments.
If you're a currency watcher, a rate hike will push the dollar (UUP) upward against its peers. We explored the impact of a stronger dollar on the economy in Part 8 of this series.
If you invest in corporate bonds; firms may have to alter or even defer their fundraising plans. In the past month, both investment-grade and junk bond primary markets have seen tremendous fundraising. Corporates like AbbVie (ABBV), Shell International (RDS.A), and Qualcomm (QCOM) have raised large amounts from the primary market.
Although a rate hike in the June meeting seems very unlikely, the meeting itself will be keenly watched. Until then, you can keep a close tab on macro developments by visiting our Macro ETF page.