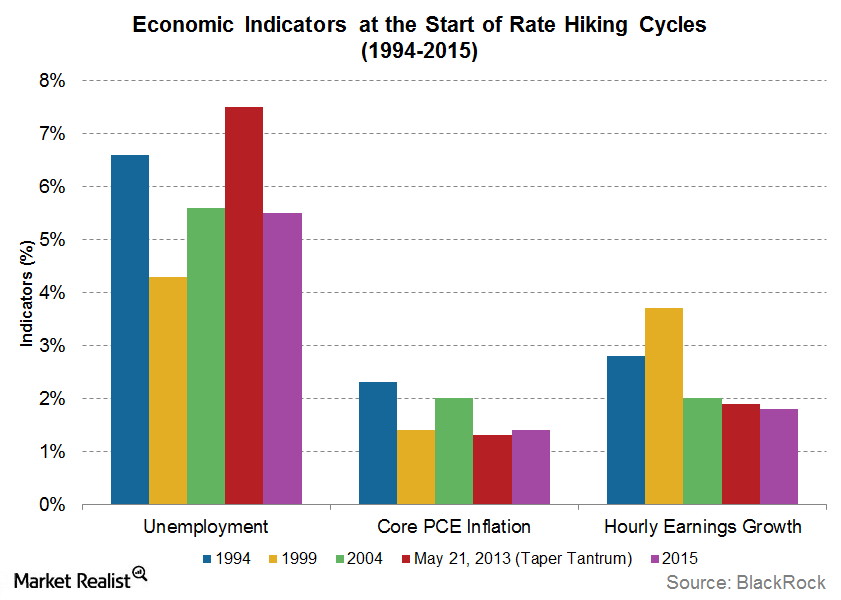 When to Expect a Liftoff in Rates
By Rick Rieder

Nov. 20 2020, Updated 2:29 p.m. ET
The above, coupled with stable markets and easy monetary policy elsewhere in the world (ACWI) (most notably in Europe (EZU) and Japan (EWJ), argues for raising the short-term rate sooner rather than later. April's jobs report makes a case that the Fed's initial policy rate hike should begin September, with a gradual pace of movement from there. Policy rate normalization should not only be borne well by the economy, but it may actually hold a positive impact.
Article continues below advertisement
Market Realist:
The US economy has been gaining speed over the last year and hence, the Federal Reserve (or Fed) is likely to launch a liftoff in rates sometime this year. The above graph shows macroeconomic indicators like unemployment, core PCE inflation, and hourly earnings growth at the start of rate hike cycles.
US wage and inflation data is currently lower than what it was in 1994 and 2004. This is due to the weak nature of the recovery after the 2008 financial crisis (IYF) (XLF) and major technological advances. However, the unemployment rate stands at 5.4%, lower than what it was in 2004, the last time the Fed started a rate hike cycle.
This suggests that the economy is nearing full employment. The Fed estimates the unemployment rate may tick down to 5%–5.2% by December. San Francisco Federal Reserve president John Williams has recently cited the "progress we've made on the [full] employment mandate," as the reason why he sees a rate hike later this year. He stated that the Fed's ability to hold off a liftoff in rates is "more limited" than its ability to tighten them.
A rate hike could be expected in September if the economy continues to see growth in the coming two months. As reported by Reuters, Atlanta Federal Reserve president Dennis Lockhart has stated that the Fed is now on a "foreshortened" timeframe when it comes to analyzing data and it could be "days, weeks and near-term months" before the beginning of a rate hike regime.
The liftoff in rates will be contingent on continued improvement in the jobs market as the effects of the transitory and seasonal headwinds like the weather, rising dollar (UUP), and falling oil prices (USO) (BNO) begin to wear off. A rise in consumer spending (XLY) is likely to be key. Consumer spending (XLP) has not picked up steam despite low gasoline prices benefiting US consumers.
Read on to the final part of this series to understand how a liftoff in rates is likely to affect global stock and bond markets.