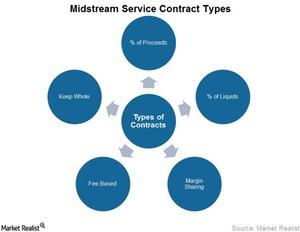 How Different Contracts Affect Master Limited Partnerships
Overview of contracts
There are various types of contracts in energy MLPs that each have their own advantages and disadvantages.
Broadly speaking, transportation and storage MLPs have fixed-fee contracts, whereas MLPs that are involved in natural resource processing have a combination of fee-based and non-fee-based contracts. Fee-based and percentage of proceeds contracts are the most favorable contracts for MLPs, while margin sharing and keep whole contracts are the least favorable types of contracts.
Article continues below advertisement
Types of contracts
Fee-based contract: Under this type of contract, the MLP gets a fixed fee per unit of natural gas gathering or processing. Short-term volatility of energy prices doesn't affect the contract. If the energy prices remain low for an extended period of time then it may affect the contract.
Percentage of proceeds: Under this type of contract, the processor receives a percentage of natural gas or NGLs as a processing fee. Under this contract, volatility in commodity prices may affect the actual cash that a processor receives when it sells its share of the natural resource.
Margin sharing: Both the producer and processor share the value difference between natural gas and NGLs.
Keep whole: Under this type of contract, the processor retains extracted NGLs as a processing fee and returns the value of the natural gas or processed natural gas to the producer.
Some of the MLPs that have a mix of the above contracts are Spectra Energy (SEP), Magellan Midstream (MMP), Enbridge Energy Partners (EEP), and Targa Resources (NGLS). These MLPs are part of the Global X MLP & Energy Infrastructure ETF (MLPX) and have a combined weight of 23.62% in the ETF.