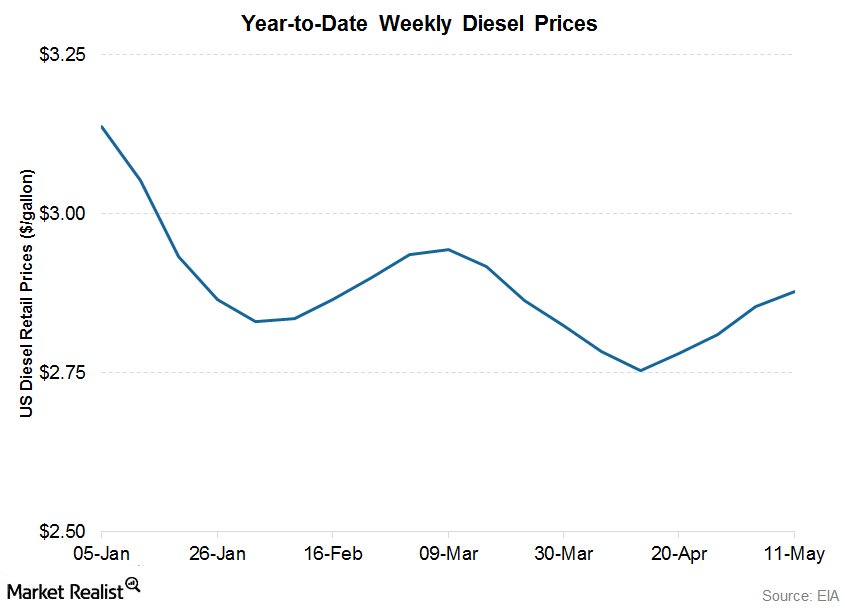 Diesel Prices Rose Again on May 11
By Keisha Bandz

Nov. 20 2020, Updated 1:13 p.m. ET
Diesel prices
The EIA US On-Highway Diesel Fuel Price Update for Monday, May 11, was $2.878 per gallon. This represents an 0.8% increase from the previous Monday's $2.854 per gallon on May 4. However, this is still 27% lower from the levels from the same week in 2014. The EIA calculates the national price averages and releases diesel fuel price updates every Monday.
An increase in diesel prices is a positive sign for the margins of refiners such as Phillips 66 (PSX) and Marathon Petroleum (MPC). Combined, these companies make up 2.6% of the iShares Global Energy ETF (IXC). They also positively affect MLPs (master limited partnerships) that carry refined products, including Shell Midstream Partners (SHLX), Tesoro Logistics (TLLP), and Holly Energy Partners (HEP).
Diesel prices are impacted by distillate inventory levels, which in turn are determined by supply and demand trends. Read Distillate Inventories Increased Last Week to learn more about last week's trends.
Article continues below advertisement
Diesel price forecasts
According to the EIA, diesel fuel retail prices should average $2.77 per gallon this summer, down from an average of $3.89 per gallon last summer. Like gasoline, diesel prices also move with crude prices.
However, the EIA's Annual Energy Outlook for 2015 (or AEO2015) released on April 14 states, "The effect of rising crude oil prices on distillate fuel use in the United States is less than for motor gasoline, because of a greater increase in distillate fuel demand as freight requirements continue to grow and the mix of light-duty vehicle fuels shifts from gasoline to diesel fuel."
Consumption forecasts
The AEO2015 notes that increasing stringency in fuel economy standards should result in increased diesel consumption in the transportation sector, while gasoline consumption should fall. The reference period used is 2013–2040.
The AEO2015 forecasts that gasoline consumption in the transportation sector in 2040 should be 21% lower than in 2013. In contrast, diesel fuel consumption will grow at an average rate of 0.8% per year from 2013 to 2040.
The EIA also provided a shorter-term forecast in its April 7 STEO. It expects US distillate consumption this summer to average 4 MMbblpd (million barrels per day), up 3% compared with last summer. According to the EIA, this increase will result from growth in manufacturing output and foreign trade.
For the latest updates on the energy sector, please read Market Realist's Energy and Power page.