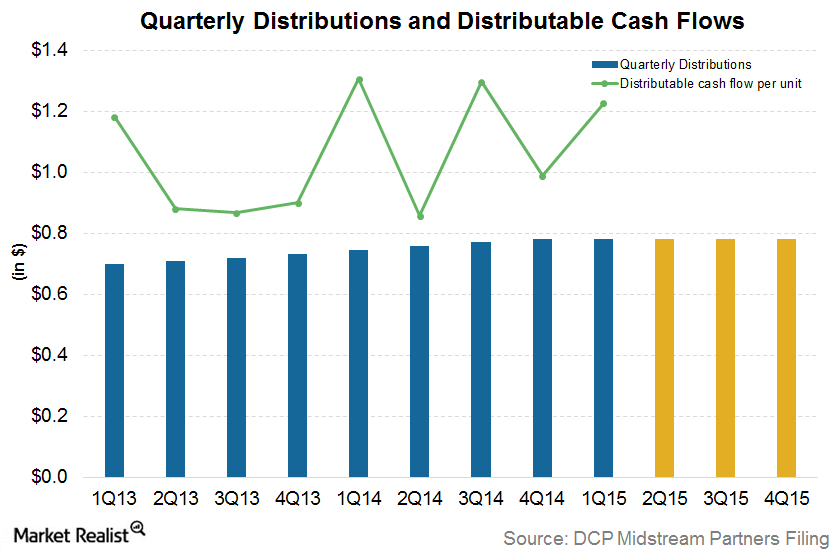 Why DCP Midstream Partners' Coverage Ratio Could Increase
Distribution guidance
The hedging strategy that we discussed in Part 4 is beneficial in the short term. However, long-term sustainable growth in DCP Midstream Partners' (DPM) earnings and distributions depends on the increase in fee-based cash flow and recovery in commodity prices.
A recovery in commodity prices is not under DPM's control, but the partnership can increase its fee-based cash flows by pursuing fee-based organic projects. In this article, we'll focus on organic projects that are expected to come online in 2015–2016. But first, let's look at DPM's distribution guidance for 2015.
In an environment of low energy prices, DCP Midstream Partners' management expects to hold the distribution flat through the remaining quarters of 2015, with an expected distribution per unit of $3.12 for 2015.
Article continues below advertisement
Among DCP Midstream Partners' peers, Energy Transfer Partners (ETP) is expected to post a distribution growth of 8.1% in 2Q15, while Crestwood Midstream Partners' (CMLP) distribution growth is expected to remain flat. ETP, DPM, and CMLP together make up ~11.92% of Alerian MLP ETF (AMLP). ETP is also a part of the First Trust North American Energy Infrastructure Fund (EMLP).
Organic projects
Below are few major fee-based projects that are expected to come online in 2015:
Lucerne 2 Plant: Lucerne 2 is a 200 MMcf/d (or million cubic feet per day) cryogenic natural gas processing plant, which is expected to come online in 2Q15.
Marysville liquids handling: This project will improve DPM's ability to receive and deliver NGL (or natural gas liquids) product at Michigan facility via truck and rail. Marysville is expected to come online in 2Q15.
Grand Parkway project: Grand Parkway is a 100% fee-based gathering project. The project will help to lower field pressure and increase volumes from the DJ Basin system. Grand Parkway is expected to come online by the end of 2015.
Distributable cash flow per unit
Currently, DCP Midstream Partners (DPM) has substantial liquidity of $1.25 billion under its revolver credit facility. DPM has a current debt-to-EBITDA ratio of 3.3x and a TTM coverage ratio of 1.1x, providing a cushion for raising fresh capital. Having said that, DPM has sufficient access to capital to fund its fee-based organic projects and grow its distributable cash flow per unit.
Although its distributable cash flow per unit might grow, its distribution is expected to stay flat in 2015, which may increase the partnership's distribution coverage ratio. In 1Q15, DPM's distribution coverage ratio paid was 1.17x.
For a post-earnings overview of other master limited partnerships, please refer to our energy MLPs Earnings Overview page. We'll continue to cover more post-earnings releases.