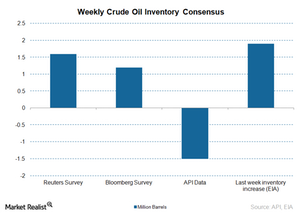 Crude Oil Market: Russia Joins the OPEC Party
Russia's crude oil production
Russia produced 10.71 MMbpd (million barrels per day) of crude oil in April 2015, the same as March 2015, according to Russian Energy Ministry sources. The lower crude oil prices are offset by the high amount of crude oil production.
A Bloomberg survey projects that OPEC's (Organization of the Petroleum Exporting Countries) crude oil production will be at 31.3 MMbpd in April 2015—compared to the quota of 30 MMbpd. Saudi Arabia and Iraq are the top two crude oil producers in OPEC. Saudi Arabia produced 10 MMbpd and Iraq produced 3.66 MMbpd, respectively, in April 2015.
Article continues below advertisement
Massive production from Russia and OPEC will put downward pressure on crude oil prices. These countries don't have plans to decrease production. Russia plans to talk with OPEC before the cartel's meeting on June 5. They're planning a collective production cut. This would support the crude oil prices. However, Russia can't reduce its oil production because of its struggling economy and volatile currency. The recent surge in oil prices might not interest OPEC for bargaining with Russia for a collective output cut.
In contrast, US weekly production was at 9.373 MMbpd for the week ending April 24. US production is showing signs of slowing down. The weak dollar and slowing output will support oil prices in the near term.
US inventory declines
The EIA (U.S. Energy Information Administration) will release the US crude oil inventory report on May 6, 2015. Bloomberg estimates show an increase of 1.2 MMbbls (million barrels) for the week ending May 1. Last week, inventories rose by 1.9 MMbbls to 490.9 MMbbls—from 489 MMbbls.
In contrast, API (American Petroleum Institute) data show that US inventories declined by 1.5 MMbbls. Inventories at Cushing, Oklahoma—the delivery hub for US futures—also dropped by 336,000 barrels last week. If the EIA report follows the API data, this means US inventory will decline for the first time since January 7, 2015. This will ignite the crude oil prices and they could skyrocket.

The latest earning news saw that integrated oil companies fared well against oil majors. Oil companies like ExxonMobil (XOM) and BP (BP) saw downstream profits double and Total's (TOT) refining profits tripled.
Lower oil prices impacted many upstream majors last quarter. ExxonMobil accounts for 16% of the SPDR Oil and Gas ETF (XOP). Energy ETFs like the Energy Select Sector SPDR ETF (XLE) and XOP diverged from crude oil's price movement and declined yesterday.