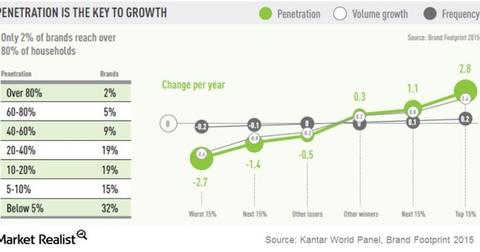 Colgate Brand Reaches More Households Worldwide
By Phalguni Soni

Updated
Brand penetration is a key competitive driver
As we discussed in the last part of this series, Kantar World Panel's Brand Footprint report was released this month. It ranked Colgate-Palmolive's (CL) Colgate as the second-most chosen CPG (consumer packaged goods) brand worldwide—in terms of CRPs (Consumer Reach Points). However, Colgate's penetration rate was over 64%. It was the highest among all of the brands that were surveyed. It was the only one in excess of 50%.
According to Josep Montserrat, CEO of Kantar World Panel, "growth is about penetration – retaining and increasing the number of shoppers choosing your brand."
Article continues below advertisement
Toothpaste brands clash
A high penetration rate increases the likelihood of customer usage. A key driver for higher penetration is the brand's performance in emerging markets. For example, Colgate's penetration rate was estimated at 87% in India, according to Kantar World Panel.
An example of how a brand can leverage its market reach is Oral-B's 2013 launch in India. Colgate's market share was India was ~53% in 2013. Oral-B is a premium toothpaste product. It's one of Procter & Gamble's (PG) billion-dollar brands. Competition between Colgate and Oral-B was expected to increase when Oral-B launched. In contrast, Colgate ended up gaining market share to almost 57% after Oral-B's launch.
A key driver for Colgate had been the cornering of display space in Indian supermarkets to stock its own products. While Oral-B gained share since its launch, it has largely been at the expense of Unilever's Pepsodent and Close Up as well as some local brands.
Coca-Cola competition
The top brand was Coca-Cola (KO). It beat its soda rival Pepsi (PEP) by a wide margin on both penetration and frequency of purchase. The former was ranked the top brand in eight countries, including the US, Mexico, Brazil, Chile, Greece, and Spain, among others. Coca-Cola's brand penetration was 43.3%. It was the second-highest among all of the brands. In contrast, Pepsi had a brand penetration of 24.6%.
Together, Coca-Cola, PepsiCo, Procter & Gamble, and Colgate-Palmolive account for 29% of the portfolio holdings in the Consumer Staples Select Sector SPDR Fund (XLP).