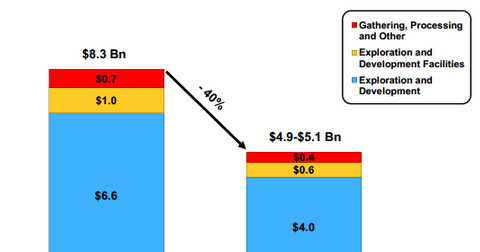 Carl Icahn Sees Gloomy Short-Term Outlook for the Energy Sector
By Stuart McKenzie

Updated
Independent energy companies are likely to be more susceptible to declining oil prices
According to a Trefis Team article in Forbes dated January 13, 2015, oil and gas companies like EOG Resources (EOG) are independent and lack downstream operations. This makes them more susceptible to crude oil price volatility than integrated players such as Exxon Mobil (XOM). Unlike independent companies, integrated firms tend to have a steady cash flow stream originating from chemical production and refining operations.
Article continues below advertisement
In commodity down cycles, independent companies such as EOG Resources tend to witness steep falls in operating cash flows. This decreases their investment capacity for future production growth. So, the capex plans of independent players rely more heavily on the short-term outlook for global crude oil prices.
Near-term outlook for the oilfield services industry
Activist investor Carl Icahn mentioned that although the short-term outlook for the energy sector is bad, the sector as a whole could make a comeback in a couple of years. The harsh pricing environment for crude oil is causing a decreasing trend in drilling activity. Several companies in the oil and gas sector have restrained their capital budgets to conserve cash in an environment of declining revenues.
Article continues below advertisement
For example, EOG Resources (EOG) anticipates its 2015 capital expenditure to range from $4.9 billion–$5.1 billion. This is a 40% reduction compared with 2014 figures. In order to improve the efficiency of deployed capital, EOG plans to delay a large number of completions. EOG is part of the iShares US Energy ETF (IYE) and has an exposure of 3.1%.
The rotary rig count is a heavily monitored activity metric within the oilfield services industry. According to statistics from Baker Hughes (BHI), the rotary rig count for the US has declined by 52%, compared with its value in May 2014.
Impact of oil price decline on US refiners
According to Alison Sider's October 26, 2014, article in the Wall Street Journal, abundant activity in US drilling over the past few years has benefited the refinery industry. Excessive amounts of US crude were produced, pushing the prices of oil extracted in the US to significantly lower levels, compared with oil pumped in other parts of the world.
Refiners were able to purchase inexpensive US crude and sell their refined products at prices in line with the global price levels. This boosted the profits of companies such as Tesoro Corporation, Phillips 66 (PSX), Valero Energy Corporation (VLO), and Marathon Petroleum (MPC). However, with the worldwide fall in oil prices during the second half of 2014, there were concerns that the cost advantage experienced by refining companies could evaporate.
In our view, Icahn's opinion is probably justified. Following his assessment, oil stocks could be purchased with a long-term view rather than booking a short-term profit, since an upward trend in oil stocks seems unlikely over the near-term, given the current uncertainty in oil prices.