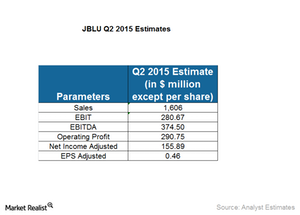 What Can Investors Expect from JetBlue in 2Q15?
Strong management outlook
JetBlue management's outlook for the second quarter of 2015 projects an increase in cost per available seat mile (or CASM) between 1%–3%. Also, Ex-CASM (or CASM excluding fuel and profit sharing), is forecast to grow between 0%–2% on a year-over-year basis, while its capacity is expected to increase between 7%–9%.
Article continues below advertisement
Analyst estimates for 2Q15
For the second quarter of 2015, analysts estimate JetBlue's sales to grow by 7.56% to $1.606 billion, compared with $1.49 billion in 2Q14. The company's operating profit is expected to grow by 106% to $290.75 million, while net income is expected to increase to $155.89 million, a growth of 155%.
Earnings per share (or EPS) for 2Q15 is expected to grow by 139% to $0.456, compared with $0.19 in 2Q14.
Operating profit has room to grow
JetBlue's operating income grew to $253 million for the first quarter of 2015. While this represents enormous growth from last year's Q1 numbers of $41 million, the company still has great deal of room for growth.
If the company continues to grow at the same pace, it could potentially reach an operating profit of nearly $1 billion by 2020.
Share performance review
JetBlue's stock has done extremely well in 2014. It gave returns of more than 88%, compared with 11.8% offered by the SPDR S&P 500 ETF Trust (SPY). Its stock reacted positively to the earnings report and has since gained ~3%, while it has surged almost 36% since January 2015.
In comparison, all major airlines—with the exception of Alaska Airlines, which gained ~8%—have lost value. American Airlines (AAL) and United Continental (UAL) lost ~8%, Delta Air Lines (DAL) lost 6%, and Southwest Airlines (LUV) lost 0.46%.