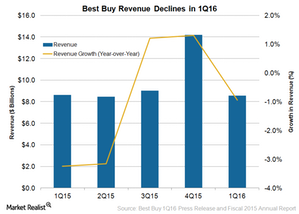 Best Buy's 1Q16 Revenue Declines, But Still Exceeds Estimates
By Sirisha Bhogaraju

Dec. 4 2020, Updated 10:52 a.m. ET
Best Buy beats Wall Street
In the first quarter of fiscal 2016 ending May 2, 2015, Best Buy's (BBY) revenue declined by 0.9% to $8.56 billion, compared with the first quarter of fiscal 2015. Despite the decline, the company's 1Q16 revenue exceeded consensus Wall Street analysts' revenue estimates of $8.48 billion.
Best Buy's adjusted earnings per share (or EPS), which excludes the impact of one-time items, increased by 5.7% to $0.37, beating consensus Wall Street analysts' earnings estimate of $0.29. The company's share price increased by 3.9% to $35.11 on May 21, the day it announced its 1Q16 results.
Article continues below advertisement
Revenue drivers
Best Buy's 1Q16 revenue growth was driven by strong demand for large-screen televisions, mobile phones, and major appliances. Including the estimated benefit of mobile phone installment billing, the consumer electronics category accounted for 31.0% of the company's revenue in 1Q16, up from 29.0% in the comparable quarter of the previous year. The category benefited from strong demand for high-definition TVs.
Computing and mobile phones accounted for 47.0% of the company's revenue, down from 49.0% in the first quarter of fiscal 2015. The strength in the sales of new iPhones was offset by continued weakness in the sales of tablets and computers.
Online revenue in the US increased by 5.3% to $673 million, due to increased traffic and higher conversion rates. However, online sales were impacted by softness in tablets and computing sales, which generally have high online penetration.
Turnaround efforts helping
Best Buy is one of the very few pure-play consumer electronics retailers that survived the recession. Circuit City closed up shop in 2009, while RadioShack filed for bankruptcy in 2015. Best Buy and other electronic retailers were impacted by the emergence of online retailers like Amazon (AMZN) and eBay (EBAY). Amazon and eBay reported revenue growth of 15.1% and 4.4%, respectively, in the comparable first quarter, outperforming Best Buy.
The turnaround initiatives under the leadership of Best Buy CEO Hubert Joly are helping the company improved its financial performance. Best Buy makes up ~0.8% and 0.1% of the portfolio holdings of the SPDR S&P Retail ETF (XRT) and the SPDR S&P 500 ETF (SPY), respectively.