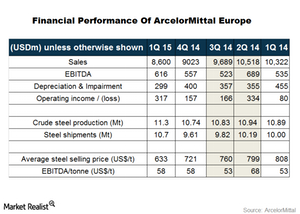 ArcelorMittal Europe's Performance Improves in 1Q15
ArcelorMittal Europe
Europe (EZU)(FEZ) is the largest market for ArcelorMittal (MT), accounting for over half of its revenues. In this part of the series, we'll analyze ArcelorMittal Europe's 1Q financial performance. Mechel (MTL) also operates in Europe.
The slowdown in the Eurozone negatively affected ArcelorMittal Europe's operations. The company took several cost-cutting measures during this period, and the results of these initiatives are now visible in the company's financial performance.
Article continues below advertisement
1Q financial performance
The chart above shows ArcelorMittal Europe's 1Q15 performance. As you can see, steel shipments increased more than 6% on a year-over-year basis. Earnings before interest, taxes, depreciation, and amortization (or EBITDA) also increased ~15% compared to 1Q 2014.
Earnings were negatively affected due to weakness in the euro against the US dollar. However, a weaker euro works to the advantage of European companies, as they become more competitive globally. Steel exports from Europe have increased in the last year. Moreover, a weaker euro makes Europe an unattractive destination for Chinese steel exports.
Higher profits
While the average steel selling price declined more than 21% year-over-year, ArcelorMittal's EBITDA per ton increased ~8% over this period. Raw material costs have come down in the last year. Lower raw material costs and operational improvements helped ArcelorMittal post higher profits in Europe.
Economic indicators in Europe have improved considerably in the last couple of quarters. Economic recovery in the Eurozone is positive for ArcelorMittal. Iron ore miners like Rio Tinto (RIO) also benefit from the recovery in the Eurozone.
North America is another key market for ArcelorMittal. However, its operations in North America have posted disappointing results for several quarters now. In the next part of this series, we'll analyze the 1Q financial performance of ArcelorMittal's North American operations.