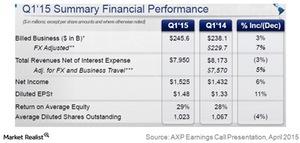 American Express Regroups Following Breakup with Costco
By Rekha Khandelwal, CFA

Jun. 25 2015, Updated 4:24 a.m. ET
Agreement with Charles Schwab 
In March 2015, American Express (AXP) announced a multiyear agreement with Charles Schwab to create two new co-branded cards. The cards should become available in early 2016.
American Express's other recent agreements include pairing with Chili's Grill & Bar restaurants and a new co-branded card with Plenti.
These new agreements reflect the company's efforts to make up for lost volumes following the Costco (COST) and JetBlue breakups.
Article continues below advertisement
Costco breakup
American Express's co-branding and merchant acceptance agreements with Costco wasn't renewed in February 2015. A co-branded credit card is jointly sponsored by a bank and a retail merchant. This type of card can generally be issued more cheaply than private label retail cards.
The US Costco co-branded accounts generated ~8% of the company's worldwide billed business in the year ended December 31, 2014. These co-branded accounts were responsible for ~20% of American Express's worldwide card loans.
The above graph shows American Express's performance summary for the first quarter of 2015. It should be noted that the company's current co-branding and merchant acceptance agreements with Costco are set to expire in March 2016.
Costco has replaced American Express with Visa (V) for a card network and signed Citigroup (C) as the issuer of the co-branded cards. All major banks, including J.P. Morgan (JPM) and Bank of America (BAC) issue co-branded cards.
American Express stock fell by 6% after the split from Costco was announced, but it recovered later. AXP forms ~2.6% of the Financial Select Sector SPDR Fund (XLF).
American Express anticipates that a restructuring charge may possibly arise from the need to rescale its cost base. The timing and size of such a restructuring charge will depend on a number of factors, including whether there's a portfolio sale. Other factors include the rate at which the billed business associated with the Costco US co-branded portfolio declines, and how quickly American Express grows its billed business with other products.
A calculated decision?
According to American Express, the terms of renewing the relationship with Costco didn't make economic sense for the company or for its shareholders. It would instead prefer to invest in other opportunities across its business.
The company believes that ending the relationship will have a significant impact on short-term results but will be good for the company's long-term growth. Non-co-branded cards issued by American Express make up more than 70% of the company's purchase volume.