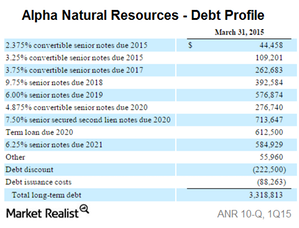 Alpha Natural Resources: Debt and Liquidity Profile
By Mike Sonnenberg

May. 19 2015, Updated 3:41 p.m. ET
Debt profile
Alpha Natural Resources (ANR) had $3.3 billion in debt on its books as of March 31, 2015, with maturities ranging from 2015 to 2021. The debt consists of $617 million in term loans maturing in 2020 and the rest in the form of notes. While coupon rates on the issued notes range from 2.375% to 9.75%, yields are much higher, at over 30% for most outstanding notes. Yields correspond to the expected market (JNK) return. When risk rises, yields rise because markets expect to be compensated for bearing additional risk.
With a weak outlook for coal, and Alpha Natural Resources' weak financial position, market perception of risk has gone up, causing the company's yields to rise. Yields on Walter Energy (WLT) bonds have also risen substantially for the same reason, as we saw in Part 4.
As of March 31, Alpha Natural Resources' balance sheet also showed pension obligations amounting to over $1 billion.
Article continues below advertisement
Liquidity position
ANR's cash and cash equivalents dropped to $476.3 million as of March 31, 2015. The cash burn as well as a debt repurchase transaction are responsible for the drop. The company holds another $552.8 million in investments. As of March 31, 2015, the company had total liquidity of $1.9 billion, including $821 million in available credit lines.
In the current difficult environment, liquidity is essential if coal producers (KOL) are to survive, especially those mining in the high-cost Appalachian region such as Alpha Natural Resources and Arch Coal (ACI). Alpha Natural Resources isn't an exception, especially when the company is burning cash every quarter.
Cash burn profile
The company burned $59.8 million of operating cash in 1Q15. The company spent $29.6 million on capex during the quarter, taking the total cash burn to around $90 million. At this rate, available cash, equivalents, and investments will vanish in about 12 quarters. Note that the cash burn doesn't take into account principal repayment on debt.