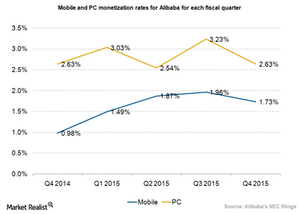 Why Alibaba Believes Its Mobile Monetization Rates Will Increase
By Puneet Sikka

Updated
Alibaba's mobile monetization rate approaches its PC monetization rate
In the previous part of this series, we discussed how Alibaba (BABA) is managing to grow its mobile users at a rapid rate, such that mobile users now accounts for more than half of Alibaba's gross merchandise volume (or GMV). The company's mobile monetization rate has also been increasing at a rapid rate and is now approaching its PC monetization rate.
The monetization rate is the commission that Alibaba charges sellers for every unit of a transaction. As the chart below shows, the company's mobile monetization rate increased from 0.98% in fiscal 4Q14 to 1.73% in fiscal 4Q15 while the PC monetization rate remained stagnant at 2.63% over the same period.
Article continues below advertisement
Why Alibaba's mobile monetization rate should increase
There are a number of reasons why Alibaba believes that its monetization rate on mobile devices will continue to increase and eventually overtake its PC monetization rate.
More buyers on mobile devices: As we discussed in the previous part of this series, the number of buyers on mobile devices is increasing rapidly. This increase is enabling advertisers to shift their spending on mobile devices from PCs.
Higher user engagement on mobile devices: User engagement on mobile devices is higher because mobile apps are convenient and allow purchases on-the-go—especially impulse purchases. Alibaba has also revamped the mobile app for sellers, through which sellers can manage their entire storefront through mobile devices.
Higher value: Since Alibaba has user location–related data on mobile devices, it can target users better through location-based ads.
Through these efforts, Alibaba is set to become the biggest player in China's mobile ad market, according to a report from eMarketer. According to this report, Alibaba will overtake Baidu (BIDU) in terms of revenue generated through search and display ads on mobile devices in China this year. Alibaba should have about a 34% share in the mobile Internet ad market in China by the end of this year, compared to Baidu's share of 32%. Sohu.com (SOHU) and Tencent Holdings are the other smaller players in this market.
Alibaba's overtaking Baidu comes as a bit of a surprise, considering that Baidu is the most popular search engine in China (FXI). Baidu has made rapid strides over the last few years, and it's the second-largest player, after Google (GOOG), in the global search ad market. Microsoft (MSFT) and Yahoo (YHOO) remain the smaller players in this market.