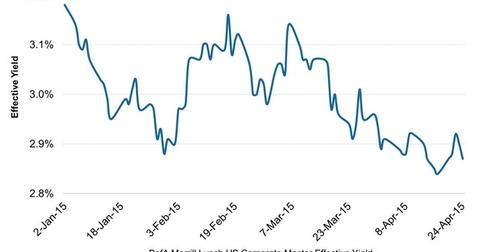 Yields on Investment-Grade Corporate Bonds Remain Low
By David Ashworth

Updated
Yields
Exchange-traded funds (or ETFs) like the iShares iBoxx $ Investment Grade Corporate Bond Fund (LQD) invest in investment-grade corporate bonds of companies like ConocoPhillips (COP), General Electric (GE), and Apple (AAPL). Investment-grade corporate bonds are debt instruments that are rated BBB- and above by Standard & Poor's or that have similar ratings by various credit rating agencies.
Investment-grade corporate bonds track developments in US Treasuries closely. The primary difference between the two is default risk. While corporate bonds can default, Treasuries theoretically can't, as they are issued by the government. It is for this reason that investment-grade corporate bonds usually carry a higher coupon than similar maturity Treasuries. Thus, these bonds can give your bond portfolio that extra bit of yield, without as much risk as high-yield bonds.
Article continues below advertisement
Treasuries
So far in 2015, Treasuries (TLT) have been favored not only as safe-haven assets, but also because they have been providing international investors more yield compared to their European and Japanese counterparts. This high demand has pushed Treasury yields down, and investment-grade corporate bond yields have fallen with them.
In 2014, yields had touched a high of 3.33% according to the BofA Merrill Lynch US Corporate Master Effective Yield. So far in 2015, the highest yield seen by the indicator has been 3.18% on January 2. Until April 25, yields ranged between 2.84%–3.14%. In the previous week, yields had touched a low of 2.84%—the lowest in 2015 so far—primarily due to less-than-encouraging economic reports. Last week, yields ranged between 2.87%–2.92%.
Spreads
The BofA Merrill Lynch Option-Adjusted Spread (or OAS) measures the average difference in yields between investment-grade bonds and Treasuries. Securities selected for calculating this spread are rated BBB- or higher on the rating scale.
If spreads are rising or widening, credit conditions can be assumed to be worsening. Also, spreads widen when growth is slow and economic conditions are worsening. Conversely, falling or tightening spreads coincide with faster growth and generally better economic conditions.
In 2014, spreads by this measure had ranged between 1.06%–1.51%. Until April 24, spreads ranged between 1.29%–1.53%. Spreads have fallen as the year has progressed—the OAS averaged 1.50% in January 2015. The average fell to 1.43% in February and in March, it fell further to 1.35%, although it increased marginally as the month progressed.
So far in April 2015, spreads have averaged 1.33%. Further, spreads are down 12 basis points from the level at the end of December 2014.