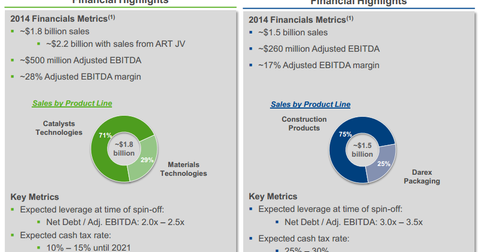 W.R. Grace & Co. is a New Addition to Lone Pine's 4Q14 Portfolio
By Samantha Nielson

Updated
Lone Pine adds new stake in W.R. Grace & Co.
Lone Pine initiated a new position in W.R. Grace & Co. (GRA) last quarter, which accounts for 1.16% of the fund's total 4Q14 portfolio.
Article continues below advertisement
Overview of chemical conglomerate W.R. Grace & Co.
W.R. Grace & Co. manufactures and sells specialty chemicals and materials throughout the world. The company's operations cover the following three segments:
Grace Construction Products: This segment manufactures specialty construction chemicals. It focuses on concrete and cement products and other specialty building materials.
Grace Materials Technologies: This segment leads in can sealants and specialty silica gels. It manufactures sealants, coatings, and other engineered materials used in pharmaceutical, packaging, industrial, and consumer applications.
Grace Catalysts Technologies: This segment is a global leader in manufacturing and developing catalysts and similar technologies. These technologies are used in petrochemical, refining, and other applications that pertain to chemical manufacturing.
W.R. Grace to split into two companies
In February 2015, W.R. Grace announced its plan to separate into two publicly traded, independent companies called New Grace and New GCP. The company noted that the move was aimed at enhancing its "strategic focus," creating a simpler operational structure, and allocating capital efficiently for both independent entities. In 2013, the company emerged from a 13-year-long bankruptcy that was driven by asbestos-related personal injury claims.
New Grace will be made up of Grace Materials Technologies and Grace Catalysts Technologies. After the split, New Grace will have sales of approximately $1.8 billion.
New GCP will consist of Grace Darex Packaging Technologies and Grace Construction Products. The transaction will be a spin-off, which is tax-free for the shareholders of the company. After the split, New GCP expects to see sales of around $1.5 billion.
Article continues below advertisement
Recently, spin-offs have been gaining momentum. Activist hedge fund Trian Fund Management is pushing for a separation of chemical company DuPont's (DD) growth and cyclical businesses. In September 2014, eBay (EBAY) spun off its PayPal business after activist investor Carl Icahn started calling for eBay to split. In October 2014, Hewlett-Packard (HPQ) also announced that it would separate its businesses into two. DuPont and W.R. Grace each have a 0.03% exposure to the iShares Russell 3000 ETF (IWV).
Fourth quarter sales grew 3.5%
W.R. Grace's 4Q14 net income was $15.5 million, or $0.21 per diluted share, down from $29.7 million, or $0.38 per diluted share in the prior year period. Its 4Q14 net sales of $804.1 million increased 3.5% year-over-year, driven by increased sales volumes (+5.4%) and improved pricing (+1.4%).
This growth was partially offset by unfavorable currency conversions. The company noted that its Catalysts Technologies and Construction Products segments experienced higher demand and robust margins. Materials Technologies saw a higher demand in North America and Asia, but slower-than-expected demand in Europe.
W.R. Grace stated said that over the last three months, changes in the commodity and currency markets have led to opportunities and created challenges as well.