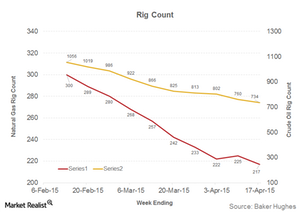 Could April 17 Falling Natural Gas Rig Count Benefit Coal?
By Mike Sonnenberg

Updated
Natural gas rig count drops again
After rising the previous week, the natural gas rig count dropped again during the week ending April 17. According to oilfield services company Baker Hughes, the natural gas rig count increased to 217 on April 17 compared to 225 on April 10. Still, the rig count was substantially lower than the 316 seen during the same week last year.
The number of oil rigs that also produce some natural gas continued to fall. The number of active oil rigs dropped to 734 on April 17. This is down 26 over 760 counted on April 10. During the same week, the world's largest oilfield services company, Shlumberger (SLB), announced 11,000 job cuts in an effort to tackle the difficult environment and falling profits.
Rigs are used to drill oil and natural gas wells. Rigs can be set up onshore and offshore. Onshore rigs are usually moved once a well is drilled. Offshore rigs are more permanent.
Article continues below advertisement
What does the count mean?
The natural gas rig count is an indicator of producer sentiment. If producers expect demand to increase, they're likely to drill more wells, and so the rig count could increase. The inverse is also true.
An increasing natural gas rig count in a stable demand environment is a negative indicator for coal producers (KOL), including Alpha Natural Resources (ANR), Cloud Peak Energy (CLD), and Arch Coal (ACI). Having said that, a lower rig count may not necessarily be positive for coal producers. Natural gas production has been increasing since 2011 despite a falling rig count.
Production's impact on utilities (XLU) depends on the revenue model and level of regulation in place.