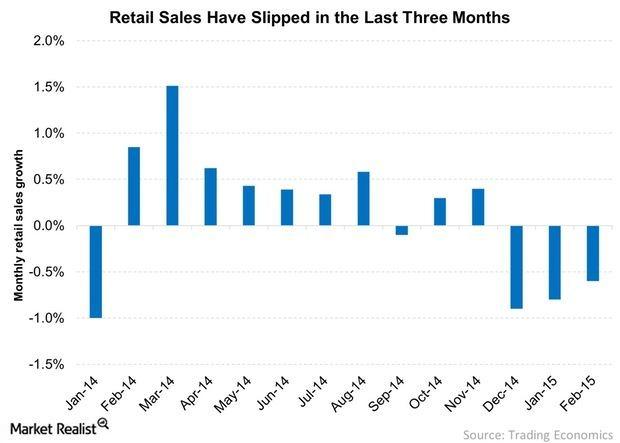 Why Volatility Has Increased in the Stock and Bond Markets
By Russ Koesterich, CFA

Apr. 2 2015, Published 10:27 a.m. ET
As I write in my new weekly commentary, "Stocks Struggle as U.S. Economy Continues to Disappoint," while volatility remains below the long-term average, it's on the rise in both the stock and bond markets. This is due to somewhat mundane issues, including slower economic growth, disappointing earnings and anticipation of an eventual rate hike by the Federal Reserve (the Fed).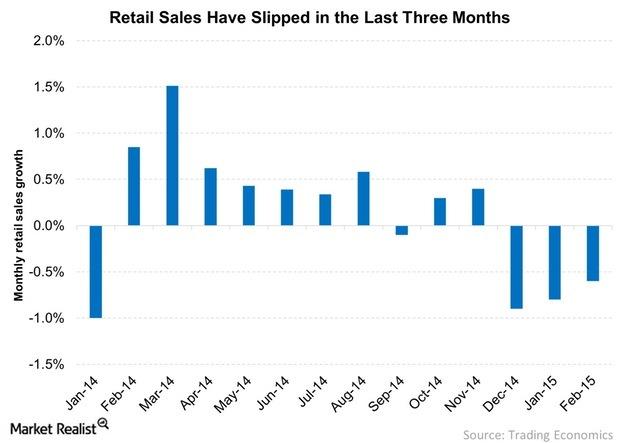 Article continues below advertisement
Market Realist – The last three months have seen subdued retail sales despite lower oil prices.
The graph above shows the unadjusted month-over-month growth in retail sales since the start of 2014. Retail (XRT)(RXI) sales started growing from March 2014. The growth sustained for most of 2014. However, retail sales have contracted in the last three months despite lower oil (USO) prices, which increases disposable income.
Bad weather has discouraged people from going to malls. Instead, they've preferred online shopping, which picked up by 2% in February.
While job creation has been robust, wage growth and the labor force participation rate have remained low.
Also, housing (IYR)(VNQ) starts dipped from ~1.1 million in January to ~900,000 in February. This decrease shows that consumption has been low in 1Q15 after growing by 4.3% in 4Q14, which was the highest growth rate since 2006.
Market Realist – Volatility has increased in both the stock and bond markets.
The graph above shows the 30-day volatility of the S&P 500 (SPY) and Treasuries, as tracked by the iShares Barclays 7-10 year Treasury bond ETF (IEF).
As we saw in the previous part of this series, the volatility in the stock markets has increased in 2015. This is true of bond volatility as well. While volatility was low for IEF in 2014, it has seen a sharp rise in volatility in 2015. This was mainly because of the probability of the rate hike. However, the fact that US Treasuries look relatively attractive for investors in Europe and Japan, due to extremely low yields in those economies, has been pulling yields down. Also, recent poor economic data have kept yields at bay.