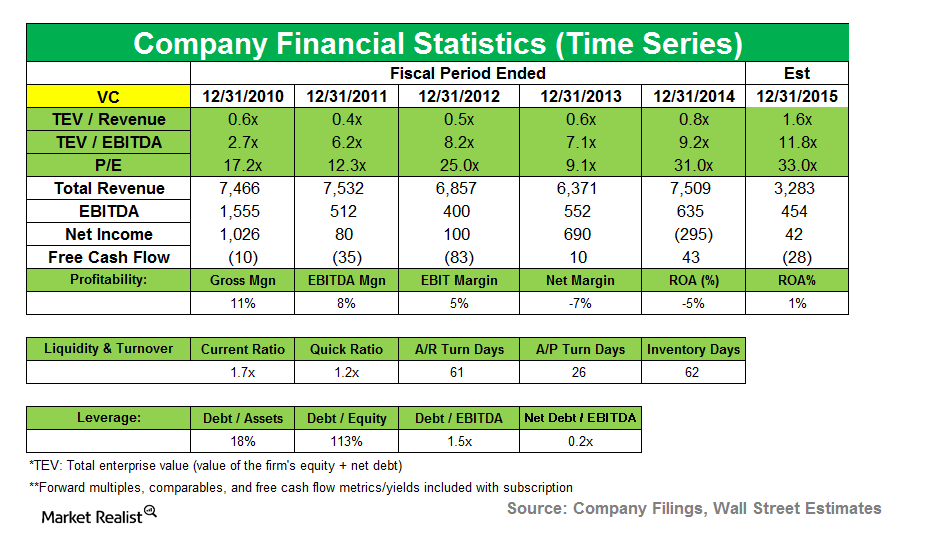 Visteon Is a New Addition to Highfields Capital's 4Q14 Portfolio
By Stuart McKenzie

Nov. 20 2020, Updated 12:38 p.m. ET
Highfields Capital's holdings in Visteon
Highfields Capital began a new position in Visteon (VC) by purchasing 75,000 shares of the company, which accounted for 0.07% of the fund's 4Q14 portfolio. The stock is part of the Vanguard Total Stock Market ETF (VTI) with a stock weight of 0.02%. The iShares Morningstar Mid Value ETF (JKI) also has Visteon as part of its holdings with a stock weight of 0.3%.
Article continues below advertisement
Overview of Visteon
Visteon (VC) is a major global supplier of electronics, interiors and climate components, modules, and systems to original equipment manufacturers within the automotive industry. The three segments that the company operates in are: Interiors, Electronics, and Climate.
Climate
Visteon manufactures and designs systems, modules, and components that offer automotive air conditioning, ventilation, heating, and powertrain cooling. The company's systems integration and analytical tools facilitate the design of climate-oriented sub-systems, components, and systems at the vehicle level. Products within this area include fluid transport systems, air-handling containers, compressors, climate controls, condensers, and evaporators.
Article continues below advertisement
Electronics
This segment manufactures and designs security electronics, wireless communication, driver information, and entertainment products. The company offers a range of infotainment components and systems, including amplifiers, infotainment head units, and audio head units.
Interiors
The company also manufactures and designs interior trim components, console modules, door modules, instrument panels, and cockpit modules.
Article continues below advertisement
Strong financial performance for 2014
Full-year sales rose by 18% to $7.51 billion. Record electronics performance caused adjusted earnings before interest, taxes, depreciation, and amortization (or EBITDA) to rise by 16% to $678 million. The company also registered strong cash performance by generating $284 million of cash flow from operations for the full year. New business wins for electronics were a record $1.3 billion.
Visteon trades at a massive price-to-earnings ratio (or PE) of 145.2x compared to its peers Johnson Controls (JCI), Magna International (MGA), and BorgWarner (BWA), which have PE ratios of 22.8x, 12.8x, and 21.1x. The high value of this ratio probably reflects investors' confidence in the company's performance.
Key strategic decisions in 2014
Visteon has decided to sell its interest in Halla Visteon Climate Control (HVCC) in order to focus more on cockpit electronics and connected-vehicle solutions. The company expects the transaction to close by the first half of 2015. The company plans to return between $2.5 and $2.75 billion of cash from the proceeds of this transaction to its shareholders via buybacks and other structured initiatives.
The company also completed the acquisition of Johnson Controls' (JCI) automotive electronics business. This has led to the creation of one of the top three suppliers of electronics pertaining to vehicle cockpits. Visteon has mentioned that the company is on track for delivering between $40 and $70 million in annual cost synergies from this acquisition before the end of 2016.
We'll discuss Highfields Capital's sale of its position in Canadian Natural Resources in the next part of this series.