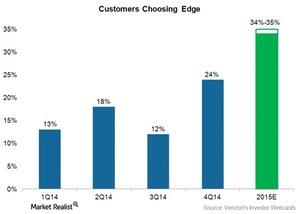 Verizon's Edge Take Rate Should Increase in 2015
Rising popularity of Verizon's Edge installment plan
In the last part of this series, we learned that equipment sales contributed to the growth of Verizon's (VZ) wireless revenues in 2014. The growth in the segment's revenues was positively impacted by Verizon's Edge installment plan.
As you can see in the above chart, Edge's take rate—customers choosing the plan—increased significantly from 1Q14 to 4Q14. Verizon expects the Edge take rate to expand to the range of 34%–35% in 2015. This increase should impact the wireless division's equipment revenues. The installment plan's recurring monthly billings directly contribute to the wireless segment's equipment revenues.
The expected increase in the plan's popularity among Verizon's customers should be due to the usual installment plan benefits offered by Edge.
Article continues below advertisement
Benefits to Verizon's Edge customers
The Edge installment plan allows some of its customers to buy devices such as smartphones and tablets, and it is similar to AT&T's (T) Next and Sprint's (S) Easy Pay plans. The Edge plan is for a two-year period, with 24 monthly installments.
For example, you can buy a 16GB BlackBerry (BBRY) Z30 in 24 monthly installments of $20.83 through this plan. You can also buy a 32GB Google (GOOG) (GOOGL) Nexus 6 in 24 monthly Edge installments of $27.08. Both Edge offers assume that the customer is not making any initial payments. Customers on the Edge plan can buy devices without making any initial payments. However, this plan is based on each customer's creditworthiness.
Edge customers also have the ability to upgrade their devices within 30 days of signing up for a plan. However, they must pay for 75% of the device's cost to take advantage of this upgrade option.
If you want to take a diversified exposure to Verizon, you can invest in the iShares Russell 1000 Growth ETF (IWF), which held ~1.8% in the telecommunications company on March 31, 2015.