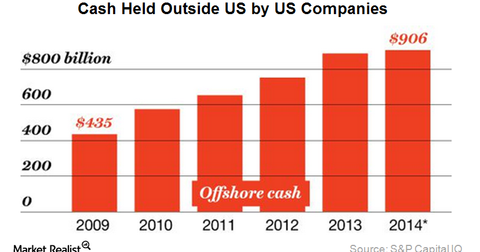 Veritas Tax Burden May Complicate Symantec Plans
By Anne Shields

Updated
Tax burden associated with Veritas limits sale prospects
As mentioned in the previous part of this series, Symantec (SYMC) seems to be looking to sell off Veritas, its storage software operation. Yet according to a Reuters report that cited people with the knowledge of the matter, Veritas has generated only lukewarm interest from potential buyers. Why? Apparently there's a tax burden issue related to the split of the company.
Article continues below advertisement
Symantec got itself entangled when it bought Veritas
Symantec acquired Veritas in 2005 for approximately ~$13.5 billion. Veritas accorded rights to Veritas Ireland, its Irish subsidiary, to conduct R&D (research and development) on the manufacturing process and computer programs for its data storage, software, and related services.
According to a 2008 article published in Marketwatch, Veritas Ireland registered a $117.8 million payment to the parent company in lieu of rights to intellectual property, including software code. However, according to an expert hired by the U.S. Internal Revenue Service (or IRS), Veritas Ireland should have paid $2.5 billion, rather than $117.8 million, for those rights. If this were to have happened the way it should have, Veritas's tax burden would have increased considerably.
For diversified exposure to Symantec, you can invest in the iShares U.S. Technology ETF (IYW). IYW invests about 0.45% of its holdings in Symantec.
The figure above shows S&P estimates, as of June 2014, related to the amount of cash held by US companies offshore. Some $906 billion was held outside the US. If returned to the US, a 35% corporate income tax would be applied to these funds. The companies mentioned here had their credits checked by the Standard & Poor's rating agency.
Ireland is seen as a tax haven for technology companies based in the US. These companies use transfer pricing to shrink their tax load in the US by transferring intellectual property abroad. This allows them to take advantage of low corporate rates, boost their profits, and cheer their shareholders.
Microsoft (MSFT) and Google (GOOG) are other leading technology players that have taken advantage of transfer pricing arrangements with Ireland. Both have reduced their effective tax rates and boosted profits as a result.
Way back in 2005, Xilinx (XLNX), a chip maker, came into dispute with the U.S. Internal Revenue Service and had to stand trial over the issue. To read more about the high cash reserves in the US technology sector, read Why IBM's Position in the Technology Sector Might Be in Jeopardy.