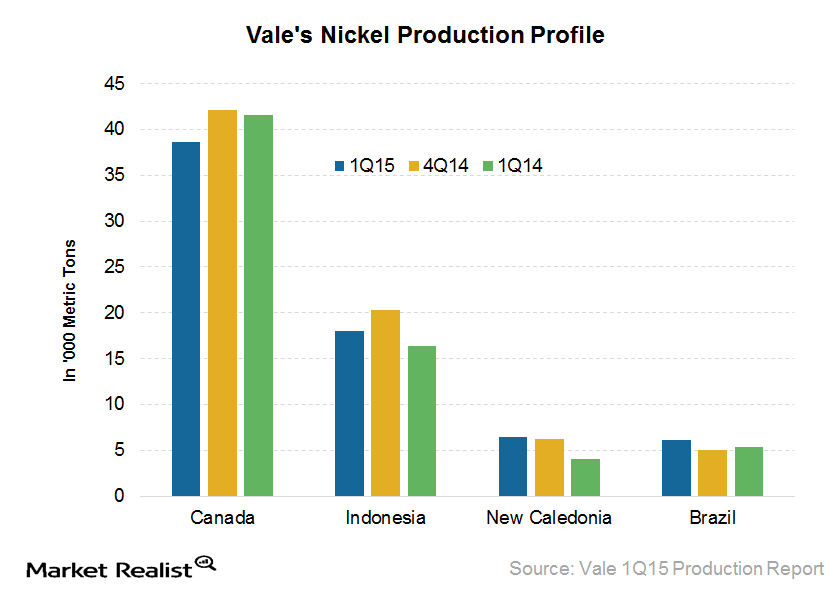 Vale Reports Best 1st-Quarter Nickel Production Volume
Nickel production overview
Vale (VALE) nickel production in 1Q15 delivered 69,200 tons. As far as nickel production is concerned, this is the company's best first-quarter performance. Vale reported record nickel oxide and total nickel production at VNC (Vale New Caledonia), record single-furnace production at Onça Puma, and positive progress with the ramp-up at Long Harbor. In this part of our series, we'll review Vale's nickel production results by region.
Article continues below advertisement
Canadian operations
Vale's Canadian operations were impacted by severe storms and ice buildup in Atlantic seaports. This delayed several shipments of feed from Vale's Sudbury smelter to its refinery in Clydach, Wales. This led to an early shutdown of the refinery for maintenance, which had previously been planned for 2Q15. As a result, production from the Sudbury mine totaled 11,400 tons—24.2% less than in 4Q14 and 35.4% less than in 1Q14.
Production from the company's Thomson mine totaled 5,800 tons in 1Q15. This is 10.8% less than in 4Q14 and 24% less than in 1Q14. Production was affected by supply and quality problems with major reagent suppliers that resulted in outages.
Indonesian operations
Vale's Indonesian operations were also hit by one-offs. During the month of March, furnace #4 was taken offline to complete roof repairs originally planned for 4Q14. And, furnace #3 was also down for unplanned roof repairs. This led nickel production to decline by 15.1% compared to production in 4Q14 and by 4.5% compared to 1Q14. Production in 1Q15 totaled 17,500 tons.
Article continues below advertisement
New Caledonia operations
VNC production brought in 7,300 tons in 1Q15. In June 2015 VNC will execute a previously scheduled maintenance shutdown for approximately three weeks.
Brazilian operations
Output from the Onça Puma operation totaled 6,100 tons in 1Q15. This figure is 21.3% more than it was in 4Q14 and 12.7% better than in 1Q14. Results represent a quarterly production record for a single-furnace operation.
The overall weak stainless steel demand and exports from the Philippines that are offsetting the export ban in Indonesia have weakened the nickel bull.
Vale, along with others, including MMC Norilsk Nickel OJSC (NILSY), Jinchuan Nonferrous Metals Corporation, Glencore Xstrata (XSRAY), and BHP Billiton (BHP), account for ~47% of global refined primary nickel production. BHP and Vale respectively make up 17.8% and 2.6% of the iShares MSCI Global Metals & Mining Producers ETF (PICK).
Investors can also consider the SPDR S&P Metals and Mining ETF (XME) to get exposure to this sector.