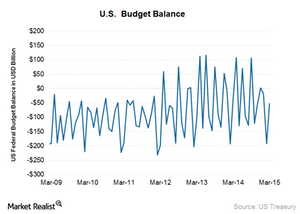 US Trade Deficit Falls in February on Lower Imports, Exports
By Anuradha Garg

Apr. 20 2015, Published 12:46 p.m. ET
US trade deficit falls in February
The trade balance is reported monthly by the US Bureau of Economic Analysis (or BEA). BEA reported the trade balance for February on April 2. The overall US trade deficit in goods and services was $35.4 billion in February, compared with revised $42.7 billion for January. February exports were $186.2 billion, $3.0 billion less than January exports. February imports were $221.7 billion, $10.2 billion less than January imports.
Article continues below advertisement
Year-to-date, the goods and services deficit has decreased by $2.6 billion, or 3.2%, from the same period in 2014. Exports decreased $5.3 billion, or 1.4%. Imports decreased $7.9 billion, or 1.7%. The decline in imports is likely due to cheaper oil, while the decline in exports is mainly due to the strengthening dollar. A strong dollar makes US goods more expensive in other currencies.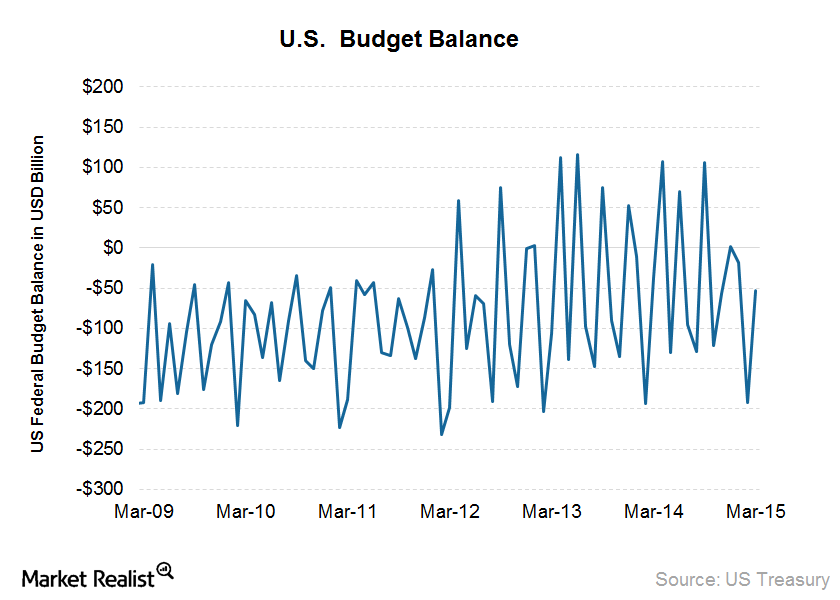 The balance of trade
The balance of trade is the difference between a country's monetary value of exports and imports. A positive balance is known as a trade surplus, or exports that are greater than imports. A negative balance is known as a trade deficit.
The relative value of the US Dollar Index compared to other currencies is affected by changes in the balance of trade. A trade deficit means foreign goods are in demand, which increases the demand for foreign currency, causing outflows of the dollar to increase. Over a long period, this leads to devaluation of the dollar.
Article continues below advertisement
The above chart shows the relationship between gold prices and the trade balance. Because trade balance values are negative, an upward-moving line means a decrease in the deficit, and vice versa. Meanwhile, the trade balance and gold don't have a linear relationship. There may be other stronger variables affecting gold prices, such as the strength of the dollar.
An expanding trade deficit leads to more pressure on the dollar. A shrinking trade deficit is usually negative in the long term for gold prices and ETFs such as the SPDR Gold Shares ETF (GLD).
A shrinking trade deficit is also negative for gold stocks such as Goldcorp (GG), Barrick Gold (ABX), Harmony Gold Mining (HMY), and Kinross Gold (KGC). It's also negative for ETFs that invest in these stocks, such as the VanEck Vectors Gold Miners ETF (GDX). GG, ABX, and NEM are its top holdings, making up 20.0% of its total assets.