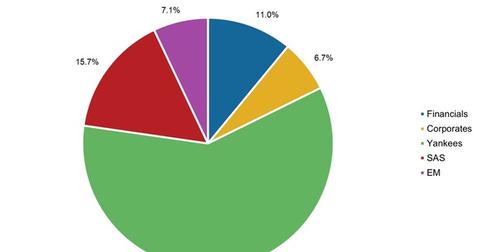 US Financials Throng the High-Grade Bond Market
By David Ashworth

Updated
Deals overview
US bonds continued to dominate issuance for the second successive week, making up 59.6% of all issues. International US dollar–denominated financials were the top issuers, making up 56.7% of all issues, with US corporates forming only 2.8%. US corporates remained on the back foot in the week. They issued debt worth $2.150 billion in the week ended March 27, 2015. In the previous week, they had issued bonds worth $2.325 billion. The week ended March 27 brought the year-to-date issuance of corporate investment-grade debt to $444.63 billion.
Article continues below advertisement
This year's single-largest issuance was by Actavis (ACT), a manufacturer of generic, brand, and bio-similar pharmaceuticals, which had issued bonds worth $21 billion in the week leading up to March 6. This was also the second-largest deal ever, behind Verizon's (VZ) $49 billion issue in September 2013. VZ's debt issues form part of the iShares iBoxx $ Investment Grade Corporate Bond Fund (LQD).
Last week, UBS AG (UBS), a provider of banking and financial products and services, was the largest issuer—with a four-part $4.85 billion bond issue. This is the second-largest international financials issuance in 2015 in the US so far.
Details of UBS AG's issue
UBS AG (UBS) is headquartered in Switzerland, and it provides banking and financial services to retail and corporate clients. It issued bonds worth $4.85 billion. The four-tranche, A2/A rated sale consisted of:
$600 million in 18-month FRNs (floating rate notes) at three-month LIBOR+50 basis points
$2.5 billion in 1.80% three-year notes at a spread of 92 bps over similar-maturity Treasuries
$1.0 billion in three-year FRNs at three-month LIBOR+70 basis points
$750 million in 2.35% five-year notes at a spread of 97 bps over similar-maturity Treasuries
Details of Credit Suisse's issue
Credit Suisse Group Funding (Guernsey) Limited is a Switzerland-based banking and financial services provider. It was the second-largest issuer of bonds in the week, with bonds being guaranteed by Credit Suisse AG (CS). Its two-part, A2/BBB+ rated, $4.0 billion issue consisted of:
$1.5 billion in 2.75% five-year notes at a spread of 137.5 bps over similar maturity Treasuries
$2.5 billion in 3.75% ten-year notes at a spread of 187.5 bps over similar maturity Treasuries
Among US corporates, Ford Motor Credit, the financial services arm of Ford Motors (F), was the largest issuer to hit the market. The issue, worth $1.75 billion, was rated Baa3/BBB-, and it was in three parts:
$500 million in two-year FRNs at three-month LIBOR+63 basis points
$650 million in 1.461% two-year notes at a spread of 90 bps over similar maturity Treasuries
$600 million in 2.459% five-year notes at a spread of 110 bps over similar maturity Treasuries